Built Dublin's first year has been a pretty good one. The site launched in March, and every time I worry that material will dry up, the city starts to reveal more interesting things in familiar places. I've started to get to know streets and neighbourhoods that I'd only passed through before, and I've been learning in huge gulps and small reshuffles all year. It's been really enjoyable so far, and I am very grateful to everyone who's been reading. I have lots planned for 2013, with some brand new parts of the project appearing alongside the blog in the next few months, and I hope you'll find them exciting.
Here are ten posts that I really liked from the first calendar year: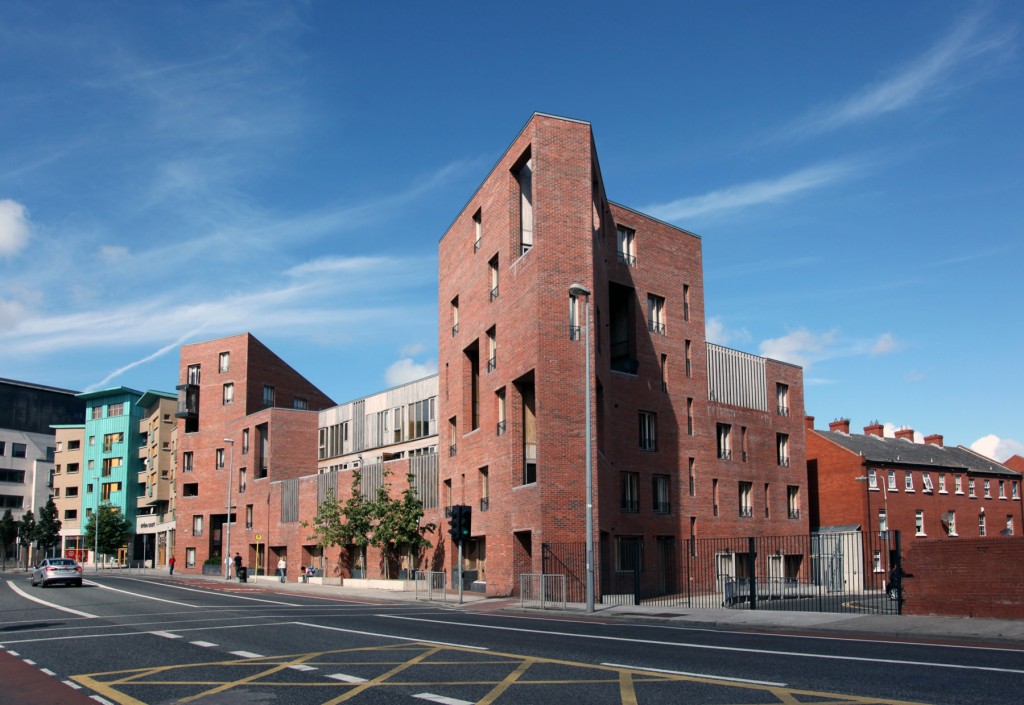 O'Donnell and Tuomey's project on Cork Street is beautiful, an asset to its urban context, and it gave me an excuse to write the longest post on the site to date.
2. Window and door reveals, Fishamble Street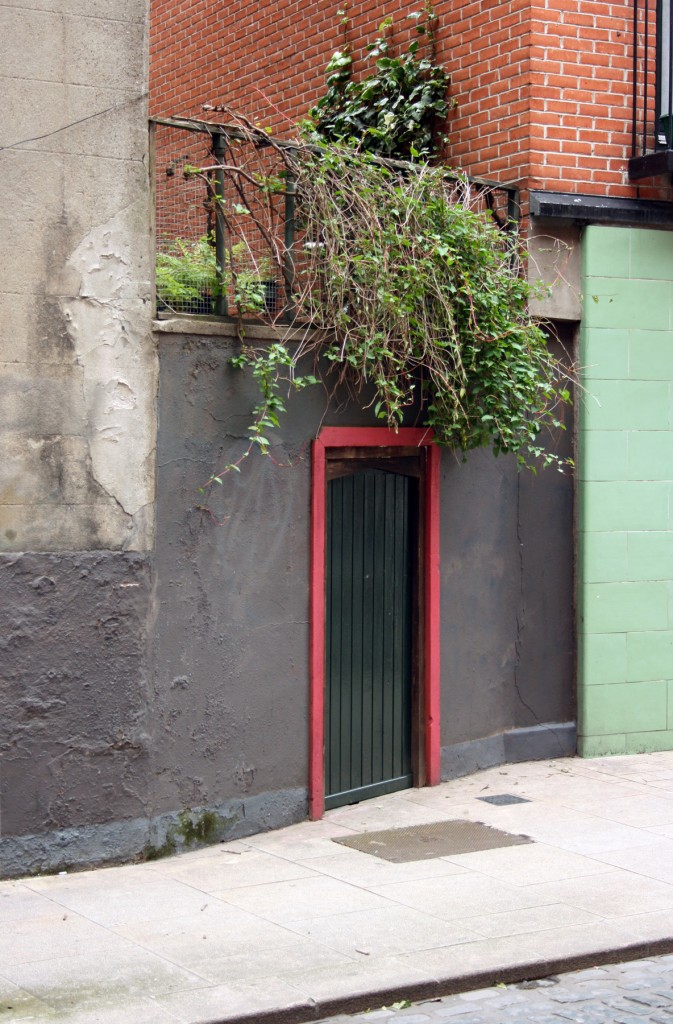 This started off with admiring paint colours in passing, turned out to be Dublin's oldest house, and led to the kind of lovely, unexpected conversation that happens when you're pointing a camera at a building someone likes.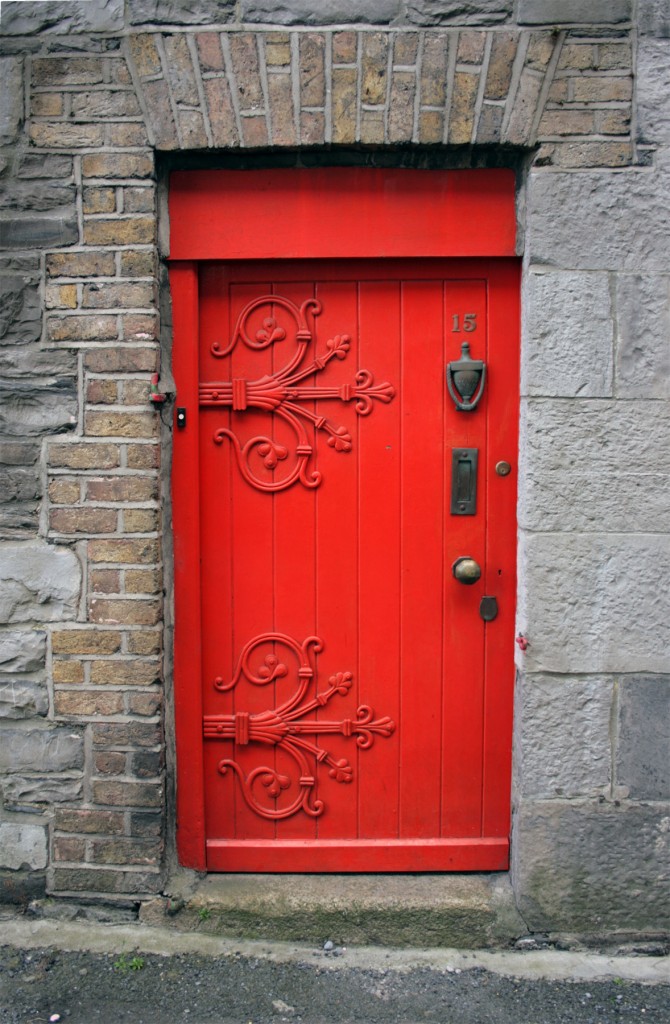 This might be the shortest post on the site, but it's one a lot of people seem to remember. The detail is awesome, this big elaborate thing done to a door tucked away down a mews lane.
4. Crane tracks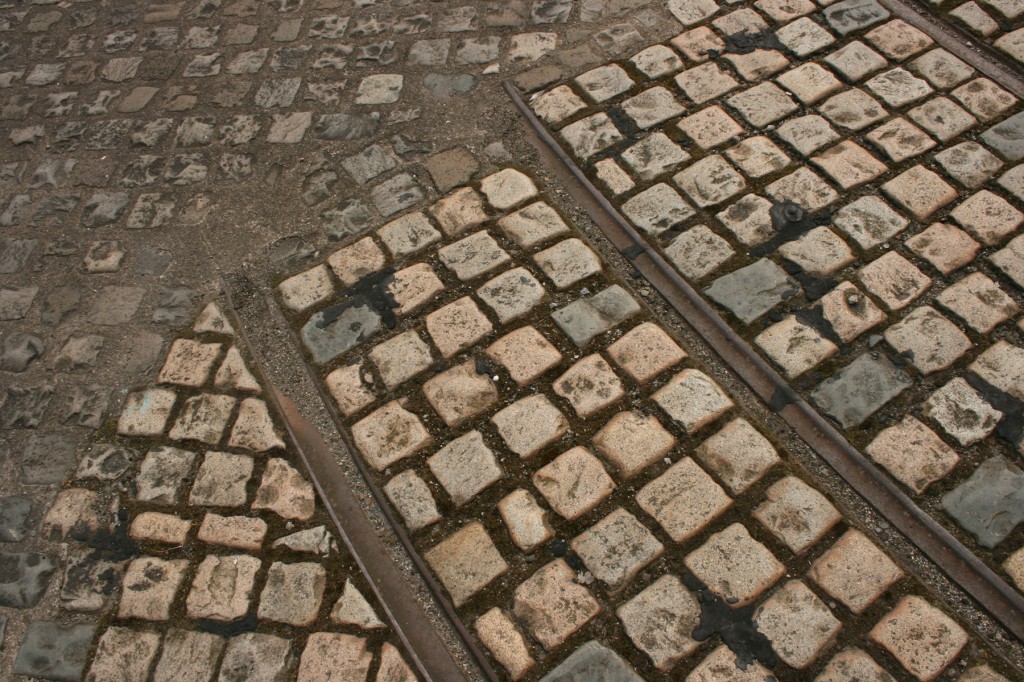 The crane tracks on the campshires are one of those details that makes my heart beat faster every time I see it, even though they're exceedingly mundane and have a clear origin. Some of the city's greatest delights for me are in shapes and scraps and geometry, and it's been particularly lovely hearing that other people are enjoying these same things.
5. Texaco House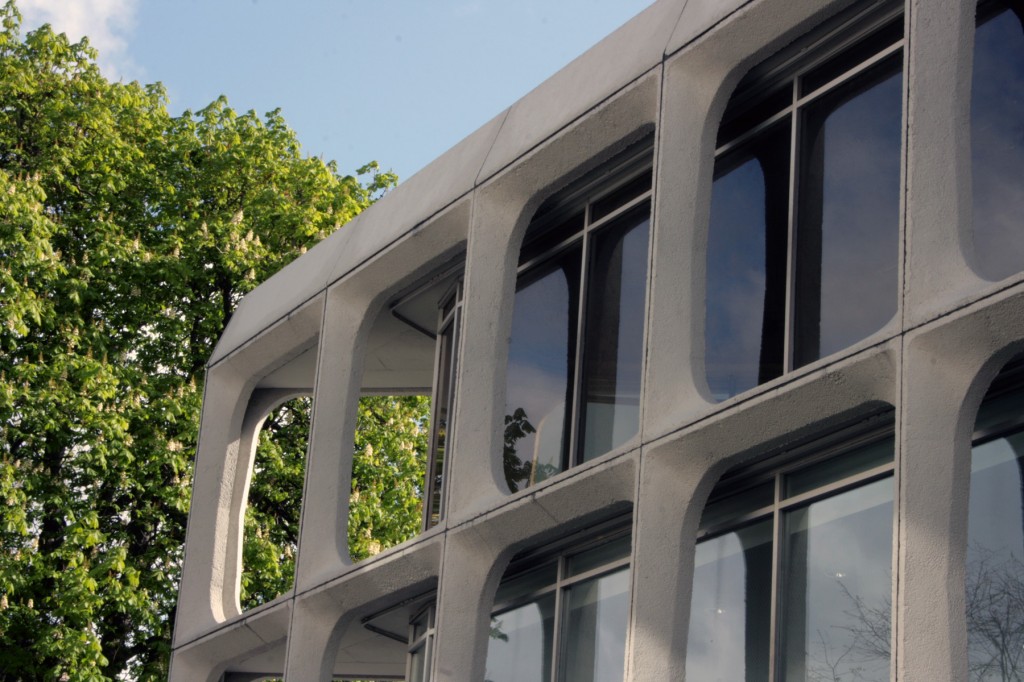 Some of the posts have been tiny research projects, chipping away to find basic information, suddenly unlocking the original name of a building and finally getting to the date and the architect. Texaco House was a memorable evening of throwing search terms at newspaper archives until one worked.
6. Spillway and tower, Upper Reservoir, Bohernabreena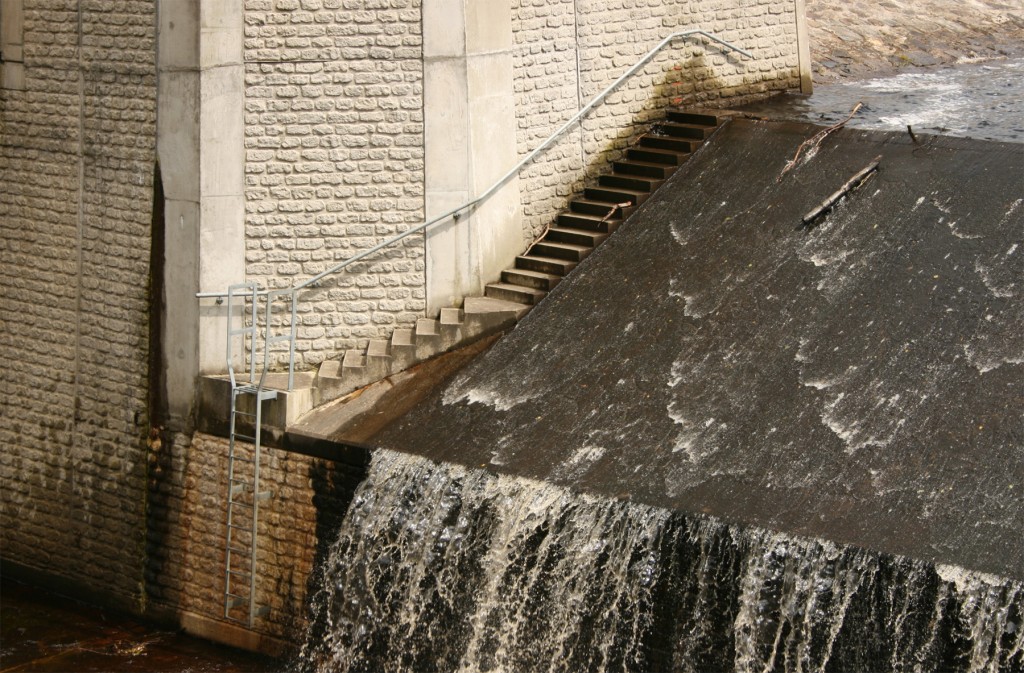 I've been using the county boundaries for Dublin instead of trying to determine the edge of the city, partly because it offers more unknown-to-me places for exploration and partly because it seems slightly less arbitrary – it's still a line, but it's one between places identified as 'Dublin' and those known as elsewhere. Bohernabreena was a nice excuse for an adventure near the boundary line, as well as bringing in the question of the city's infrastructure in a way that I'd like to look at more.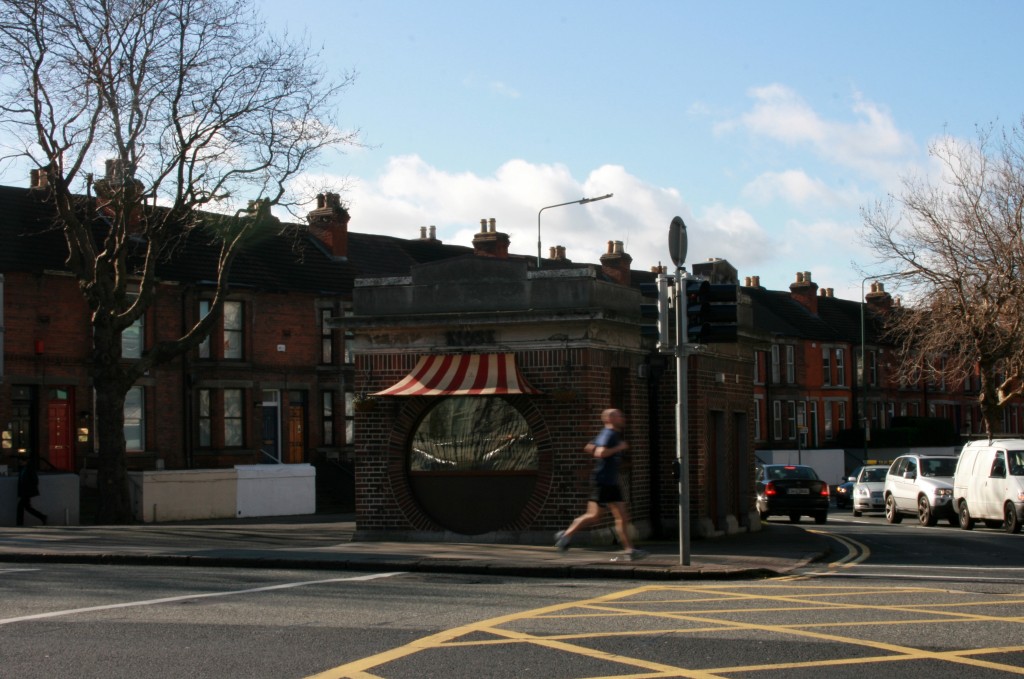 The first-ever post is still one of my favourites, and it totally disrupted my plans for the site. Until the week it went live, I'd planned to cover only contemporary and modern architecture in the city – things I love and wish more people loved – and then I photographed this on a sunny Sunday morning and realised I wasn't being true to what I really loved about Dublin's built environment. Putting scrappy shopfronts and doorbells beside large-scale buildings has been consistently quite scary, and I'm sure it's seemed to some people like it's trivialising architecture, but for me it's been more honest and interesting as a way to explore the city semi-personally. (I promise that I take architecture extremely seriously and am not using the word 'love' lightly here.)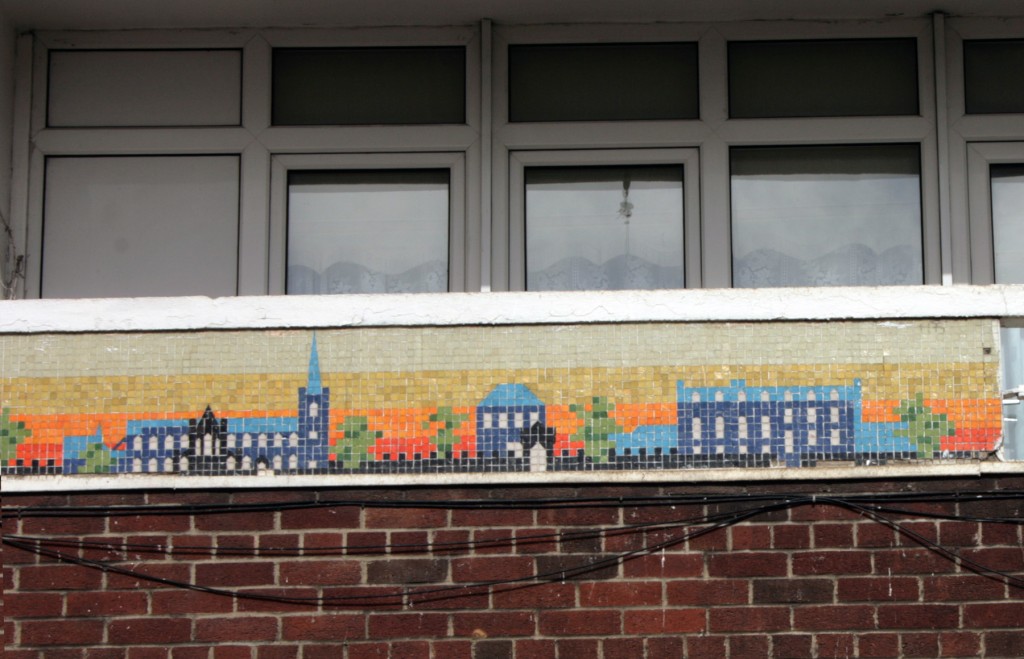 The Corpo mosaic were one of those details in the city I'd always been seeing peripherally, noticing but not tracking. Since this early post, I've become much more aware of exactly which tiled pattern is on which of the blocks around the city, and it's enriching to add an extra element to a familiar building type.
9. Walkways, University College Dublin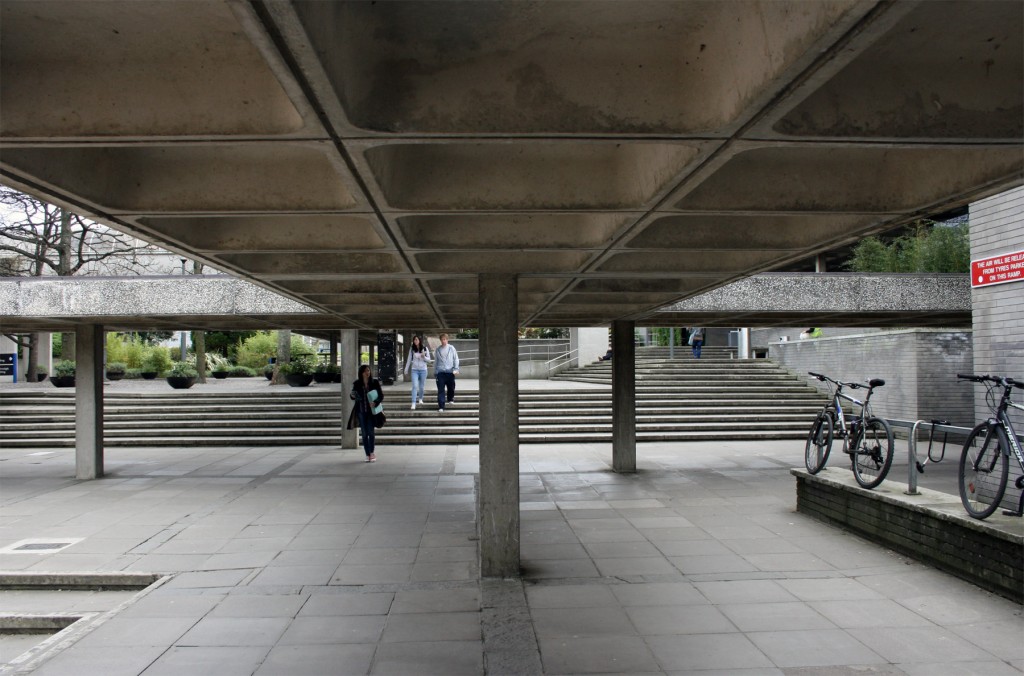 The site's remit ended up being broader than just modern and contemporary architecture, but that may be the category for which I end up fiercely advocating and defending the most. I wish so much that UCD enjoyed or valued its amazing original campus, especially these gorgeous and eminently functional covered walkways, even if you're always going to be in a minority when advocating for the beauty of concrete.
10. Blackrock Baths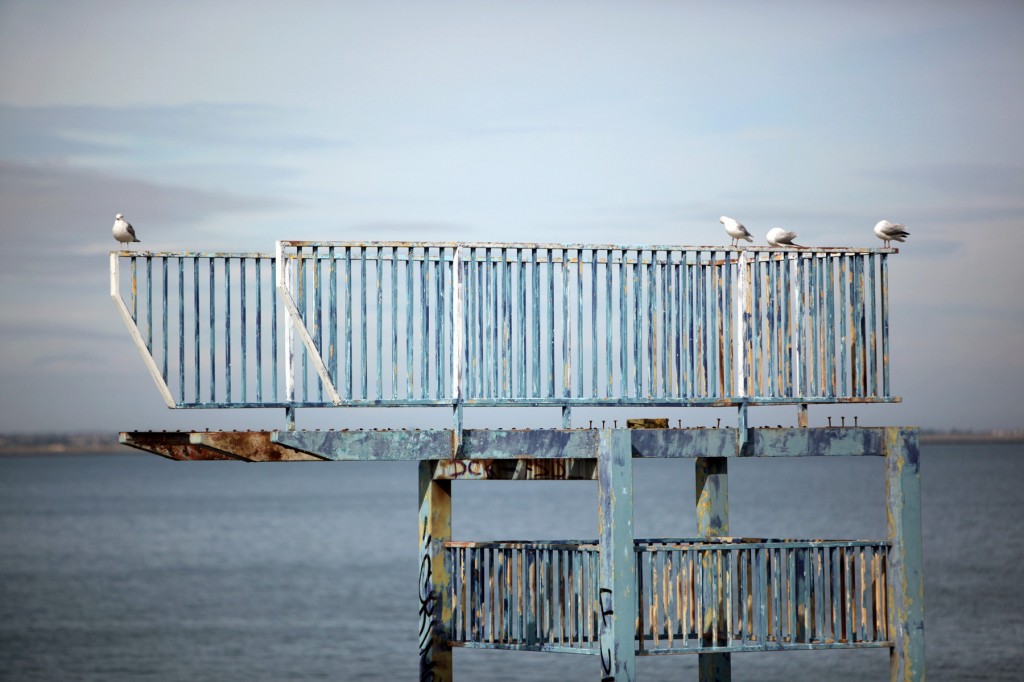 It's been exciting to be so much more aware of changes happening in Dublin – I've a very long list of future posts, and sometimes I've been beaten to it by demolition, a big advertising banner being hung over the detail, or improvements that are generally to be celebrated but knock out my little detail. The week the demolition of Blackrock Baths was announced, I had an unexpectedly free afternoon at short notice, and I bombed out to the coast to photograph the ruined baths before they disappeared. While I was there, I made the incredibly stupid mistake of buying the cheapest single fare DART ticket so that I could go into the station and see the view from the footbridge over the tracks, and heading in there with my camera but no phone or money. Though Built Dublin's officially a one-woman show, there's a huge amount of advice, help and feedback from my friends, and family going on in the background, and I'm incredibly grateful for it. In this case, it's gratitude to my boyfriend for passing me a return ticket through the railings, and for managing to eventually stop laughing at me.