Along the Queen's Road in Dun Laoghaire, there are three small shelters facing the sea, separated from the harbour by the traffic. Two of them are located as a pair by the start of the East Pier.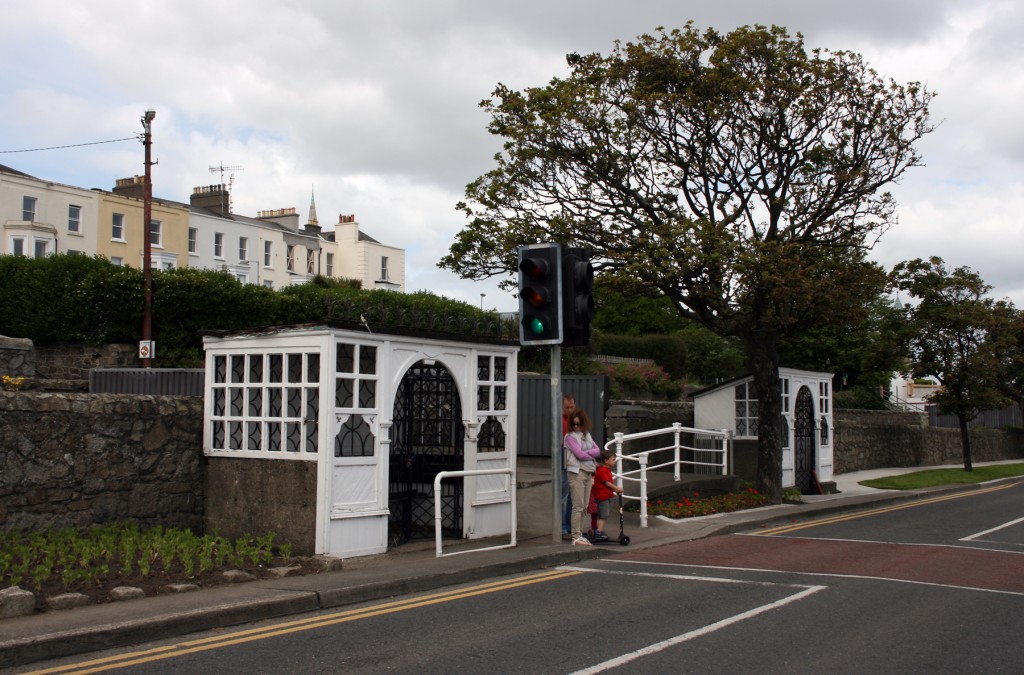 The forms are a bit different but they're doing the same thing: a simple shelter with a bench inside. Each one has a concrete base with neat white-painted timber, a grid of mullions like a window without glass, patterned metal screens and doors, and a monopitch roof, though the one to the north is a much steeper pitch than its companion to the south, where the roof is nearly flat.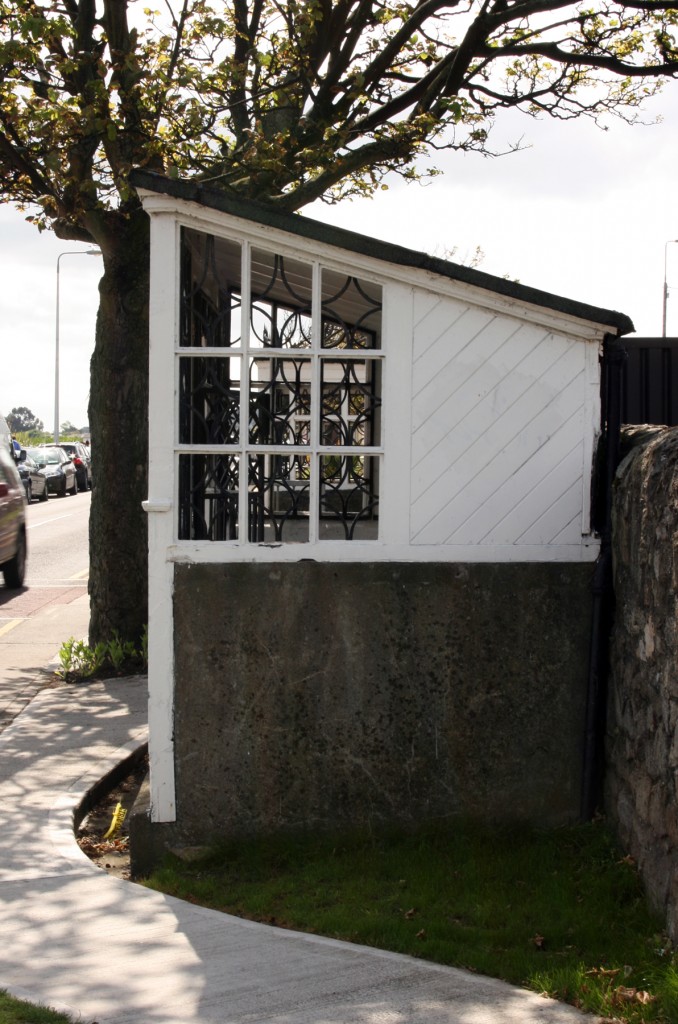 I'm not sure of the date or precise purpose of their construction, but it's reasonably safe to assume that they're roadside shelters for city-bound transport from the pier. Dun Laoghaire, then Kingstown, became a popular Victorian seaside resort with the arrival of the railway, but the coast road (rather than the Monkstown-Rock Road route) was only established as a continuous route as part of preparations for the 1932 Eucharistic Congress – you can see the difference if you toggle between the present and historic layers via the OSI map viewer, if the change is difficult to imagine.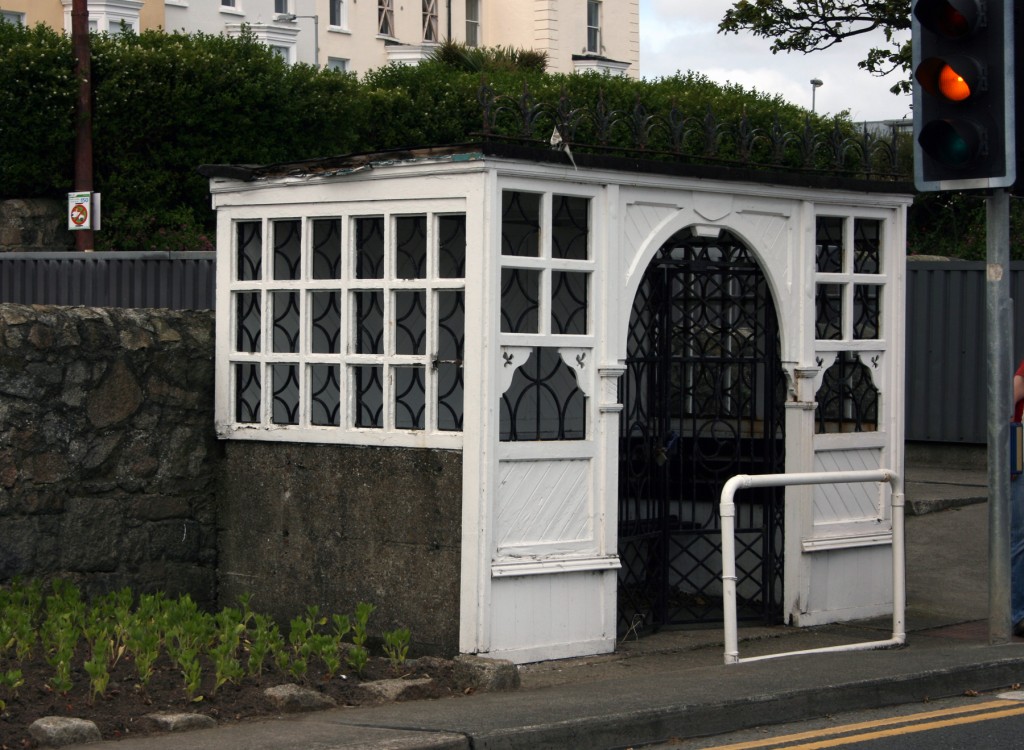 It's a pity they're locked, as they're in lovely condition and always look like an inviting spot to hide from the rain with an ice-cream. (The year-round Irish seaside dream?) They're really not in the most useful spot to be put to use as bus shelters, unfortunately, and it's difficult to imagine a new use that isn't hobbled by being just a narrow path away from a busy road.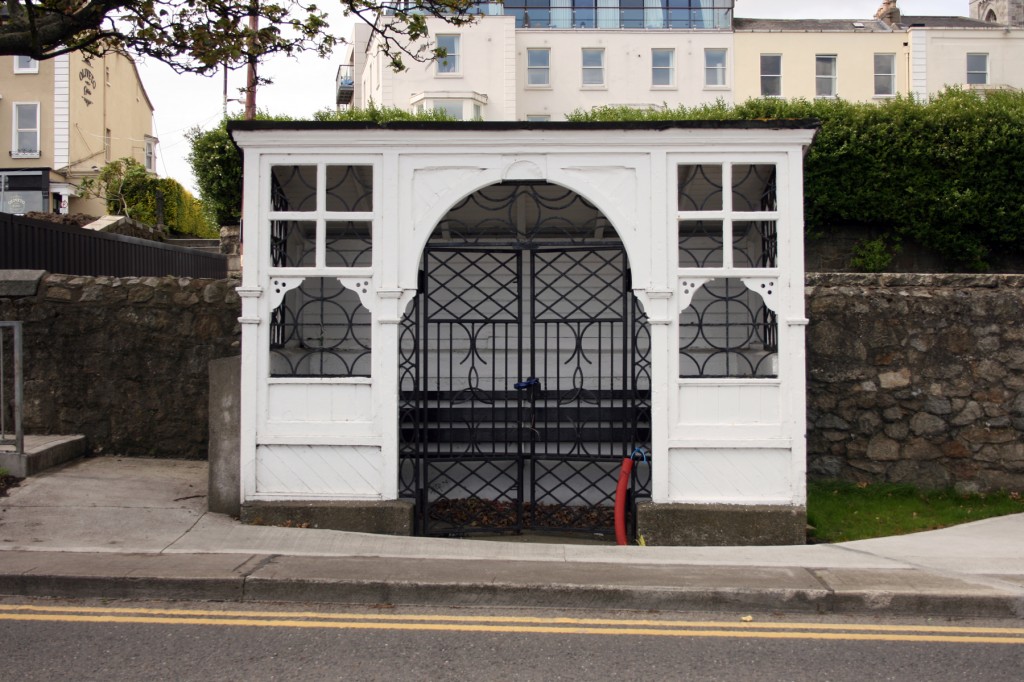 Even as buildings that have been downgraded to merely decorative, they're still really lovely. The window motifs (continuing around the sides, providing a view of traffic approaching) and neat symmetry make them seem like wendyhouses, and even the gates keeping them out of use are pretty and patterned. It's maybe a variation of the seaside forgiveness at play too, because they're faintly ridiculous in a way that fits with the make-believe here: we put on special summer clothes and eat sticky colourful food and spot boats, and the buildings looking like toy houses or doilies or tiny iced cakes just feels like part of the amusements.