Mark's Lane runs parallel to Pearse and Townsend Streets, separating the Markievicz flat complex from St. Mark's Church. The Markievicz block (Dublin Corporation/Herbert Simms, 1934-6) presents a symmetrical, nicely composed facade to the street, with the entrance portal at the centre, and that's a good enough reason to take a walk down the lane.
From the Lombard Street end, you can see a painted sign on the rendered side of a brick building, just behind the Lombard Simms block. It's advertising "Hugh Jordan & Co. Ltd. – Crown Cork Manufacturers – Glasses/Bar Fittings," though if you look closely, it's a two-for-one, with an older Hugh Jordan sign underneath. For a fan of painted signage, this does it right: painted directly on the building, every letter stark and perfect (albeit faded), and with an interesting compositional touch in the corner motif. It's a plaque, it's an ad, and now it's a ghost sign.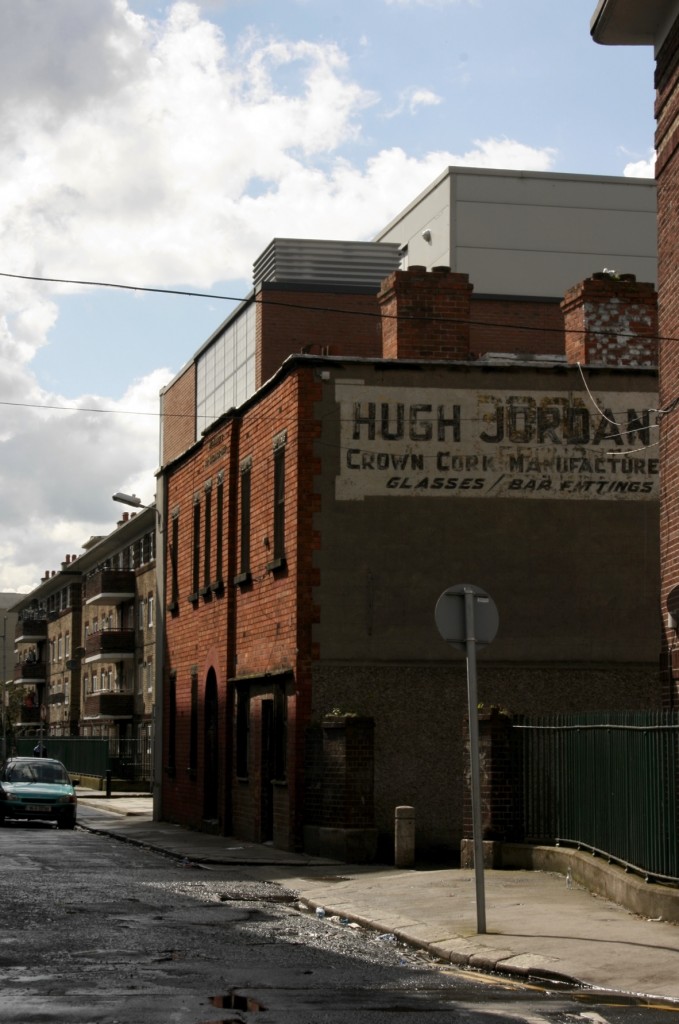 Hugh Jordan opened in 1947, and there are a number of addresses associated with the company: Westland Row, Lombard Street, and a showroom on Grand Canal Quay. This particular address appears in an application to alter the premises (1967), and in ads throughout the 1970s. ("Why pay more? […] TOUGHENED DELPH FOR HOTELS, HOSPITALS, RESTAURANTS, INSTITUTIONS" is the start of my favourite, from The Irish Times, 6 June 1974, p.22.) Crown Cork is presumably the crown cork disposable bottle cap – one of those terms that must have made sense to the market at the time, but had me (in my 2013 ignorance) trying to guess whether it was lounge furniture or glassware. And, like any trade supplier, there's a host of interesting product names appearing in Hugh Jordan's history – 'Rocklite Steelite Hotelware' is a wonderfully evocative one, and appears to have been popular with the company as sole supplier to clients including "Arnott's, Roches Stores, Bewley's, Clery's, Old Kentuck Captain America's, Solomon Grundy's, Murphs, The American Connection, Beefcakes, Thunderbird and Jonathans." (August 1, 1978)
The company moved to Airways Industrial Estate in Swords in October 2006, and are still operating as catering suppliers covering just about everything from fit-outs to cutlery.