Occupying the northern end of Parnell Square, the Garden of Remembrance is a memorial to those who gave their lives for Irish freedom. The site had previously been part of the Rotunda Hospital's pleasure gardens, which opened in 1749 (a year before the hospital's construction began) with a fee for admission, part of Dr. Bartholomew Mosse's strategy for funding the hospital.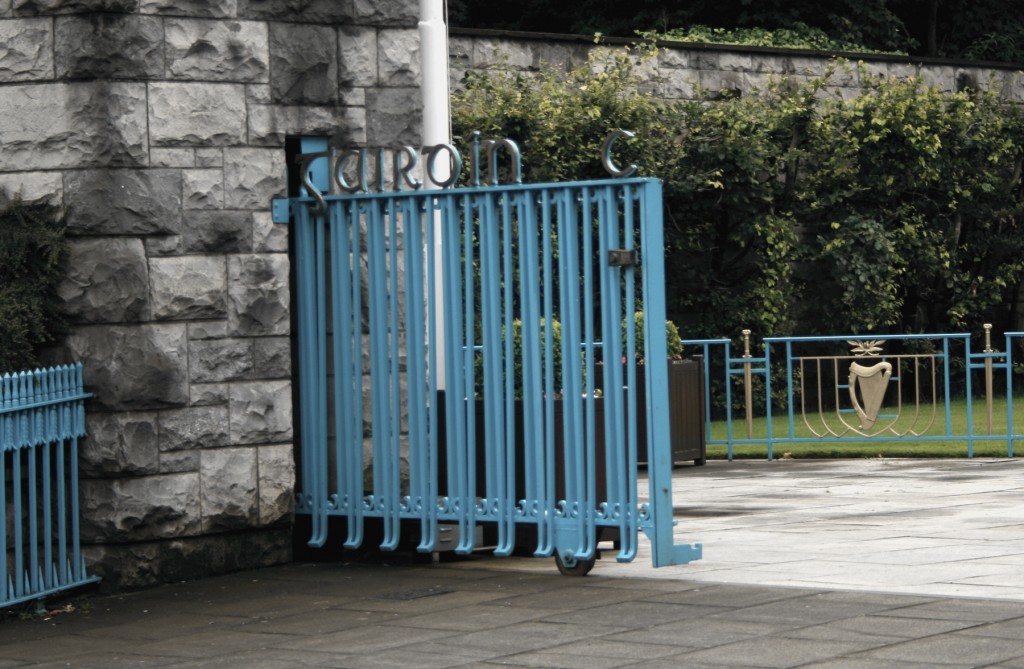 The site for the Garden was bought from the hospital in 1939, and a design competition was held in 1940. Six years later, Daithí P. Hanly was announced as the competition winner. There was a further hold-up even at this stage – according to The Irish Times on September 9 1958 (p.3), "In 1949 the hospital was allowed to build a temporary pediatric [sic] unit on the site during an outbreak of infantile mortality. […] There has been some delay in [handing over the site] as it has been necessary to erect an alternative permanent pediatric unit in the hospital to house the 30 cots which the temporary unit catered for." In 1966, the Garden had its official opening on Easter Monday, marking the 50-year anniversary of the 1916 Rising.
Daithí P. Hanly was born in 1917, and graduated from UCD School of Architecture in 1940. Following a few years working for private practices, on Board of Works projects and as landscape and later planning officer for Dublin City, Hanly became Housing and Planning Architect for Dun Laoghaire Borough Corporation in 1947, and joing Dublin Corporation as Housing Architect in 1956. His role was amalgamated with the City Architect post in 1959, and Hanly remained as City Architect until 1965. (On his death in 2003, The Irish Times published a comprehensive obituary (July 12 2003, p.12) which is a helpful source on Hanly's career.)
The Dublin Corporation blocks with the butterfly roofs and (in some cases) wonderful mosaics were designed by Hanly, and his huge basilica at Knock may also be familiar to some. I was quite charmed recently, researching for the Dublin Theatre Festival architecture tours, to discover that Hanly had saved and numbered the stones of old Abbey Theatre's facade on the theatre's 1961 demolition in the hope that it could be re-erected – though I'd be a long way from what I know of Hanly's position on conservation, there's an admirable spirit in direct action.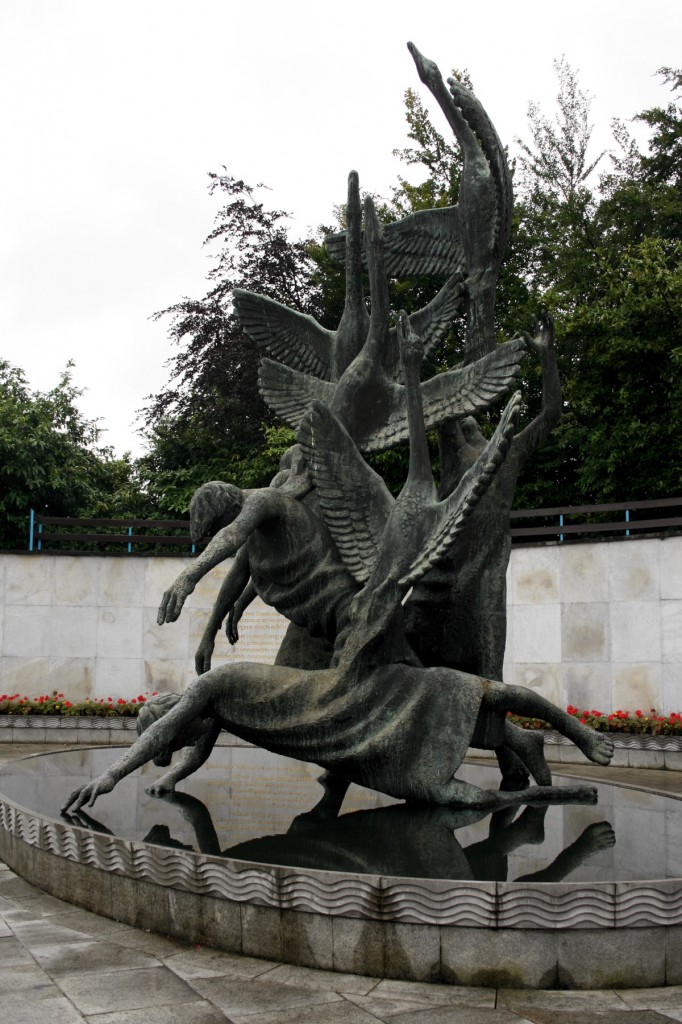 The Garden has raised lawns around a sunken cruciform pit, with a cruciform pool at the centre. The pool is lined with mosaic tiles in a blue and green wave pattern, interrupted at several points by tiled representations of broken weapons, drawing on a Celtic tradition of marking the end of battle by throwing broken weapons into rivers. Around the perimeter of the pit, benches and planted troughs alternate. At the head of the cross, there's a sculpture – Oisín Kelly's The Children of Lir, added in 1971 – and a poem by Liam Mac Uistin on the wall behind. Hanly's original plan for the Garden had included a sculpture representing Ireland's struggle, though Kelly's transforming swans are perhaps more subtle than Hanly's proposal for Eire and her warriors.
Visiting it as a park or garden, it's hard to get beyond how often it's near-empty – perhaps it's because of the huge number of benches, but it always feels very still relative to the busy streets outside. But it feels like a matter of design, too, with the pristine lawns held behind Marian blue fences (set with representations of artefacts from the National Museum), and the rigid formality of the park's plan directing movement in sharp turns. Appropriately enough, it's got a sombre military tone, but for me it's not a cue for reflection, just unease, like being alone at a funeral in an emptied-out swimming pool. In 2007, an entrance was added to the north, but rather than opening the park up, the overhanging trees and the width of the stairs compound the sense of enclosure and seem poky relative to the other, original entrance to the east.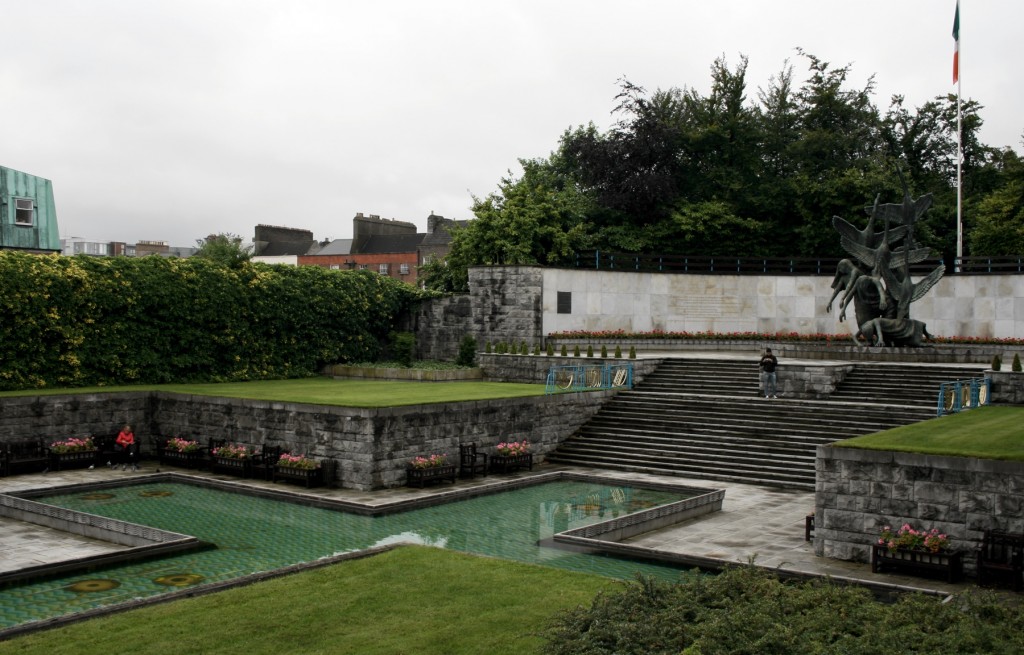 At the same time, it's a fascinating space. It's a very specific representation of Ireland and its history, going heavy on Celtic mythology and religious symbolism, and using the rigidity of military plans. Inevitably, something so specific is going to have an immense power for some, and it's going to leave others (including me) cold if neither religion nor Celtic myth nor the military have any significance for them. And maybe others still are left slightly baffled – a friend of mine, new to Ireland, once described a protest as starting "at that place they turn children into swans." Memorable, just maybe not always as intended.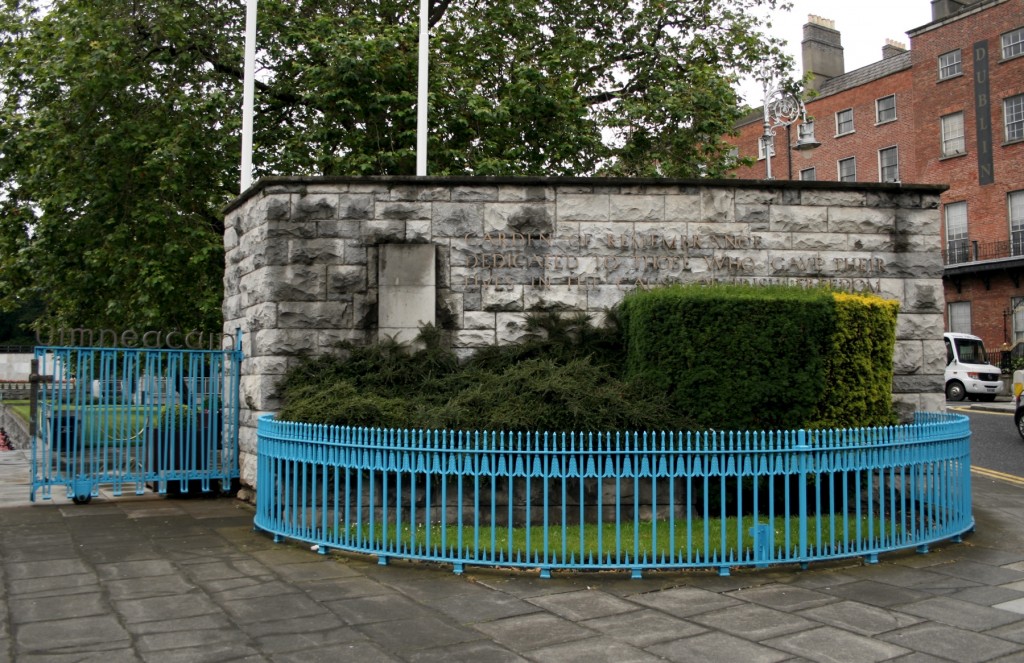 Update: The Garden was also the subject of an application to add a memorial to victims of institutional abuse, refused by An Bord Pleanala. Thanks to Anna Hofheinz (via Facebook) for the heads up.