Sitting at about a 30-degree angle to Adelaide Road, the church was originally built for the Catholic Apostolic Church. The architect was Enoch Trevor Owen, who had recently joined the Board of Works, and construction took place between 1861 and 1863. According to the Catholic Apostolic Church's fascinating and remarkably extensive Wikipedia entry, the organisation of the church would have had to have been based on division into three parts, corresponding to the divisions of the tabernacle – the nave (for the congregation), the chancel (priests and deacons), and the sanctuary.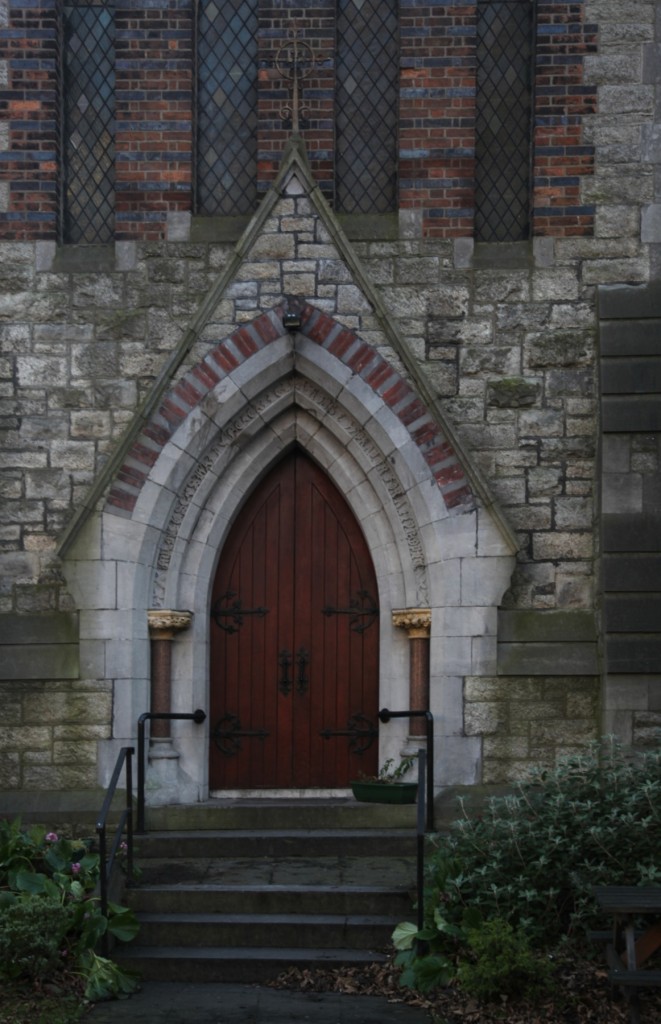 Today, the building is home to evangelisch-Lutherischen Kirche in Irland/the Lutheran Church in Ireland. The Lutheran Church had previously built its own church on Poolbeg Street, but it burnt in the 19th century, and the Lutherans stopped holding services in the early 20th century. The Church was refounded in 1955, and they made St. Finian's their home, with the church rededicated in 1961. Today, in addition to the Lutheran Church's own (primarily German-language) services and community activities, it hosts a number of other congregations, including regular services for the Latvian Lutheran and Polish Lutheran congregations.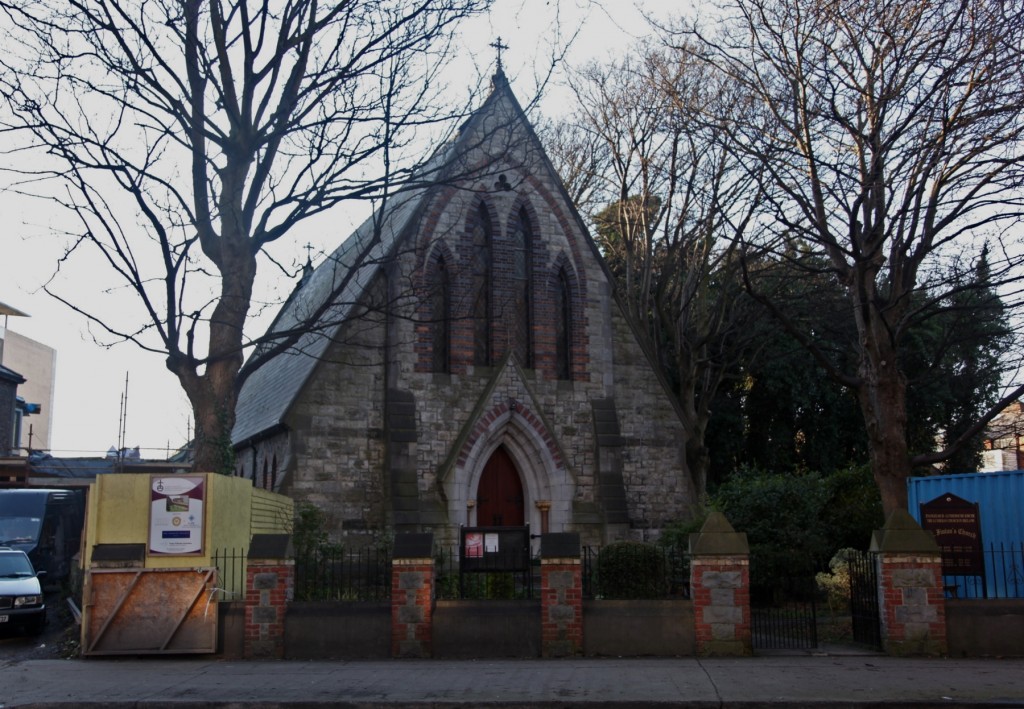 The angle puts the building's entrance on the east-west axis, and it's also approximately the angle of the Royal Victoria Eye & Ear Hospital (1903) across the road. Indeed, the hospital's scale sets off the small church for me, and the tension between the two very mannered but quite different buildings is part of what makes Adelaide Road one of my favourite streets in the city. St. Finian's sits behind the trees at a height similar to the street's domestic buildings, the steep roof pitch and the pointed arches of the entrance door and the windows making it appear vertical and slim, while the Eye & Ear's original building sweeps out wide and horizontal.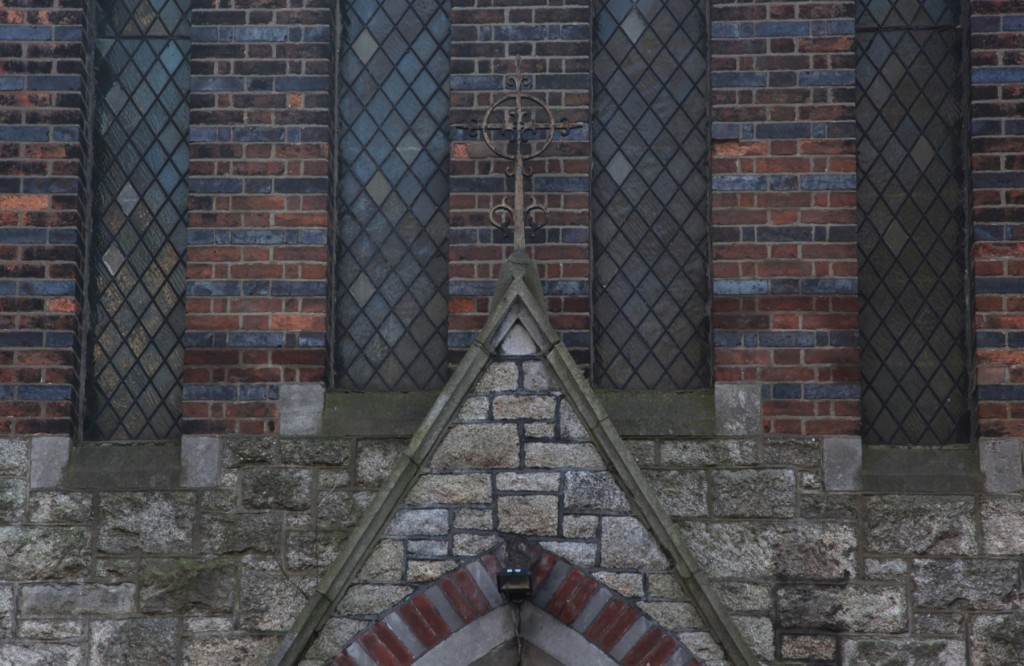 Against the granite ashlar, the red and blue-grey bricks offer striped contrast, with horizontal stripes around the windows rising to narrow arches, and two wider arches capping the entrance and the set of windows. It's a lot of framing within relatively little space, and maybe the lack of facade whitespace is emphasising a narrowness even more, but it's certainly interesting and distinctive.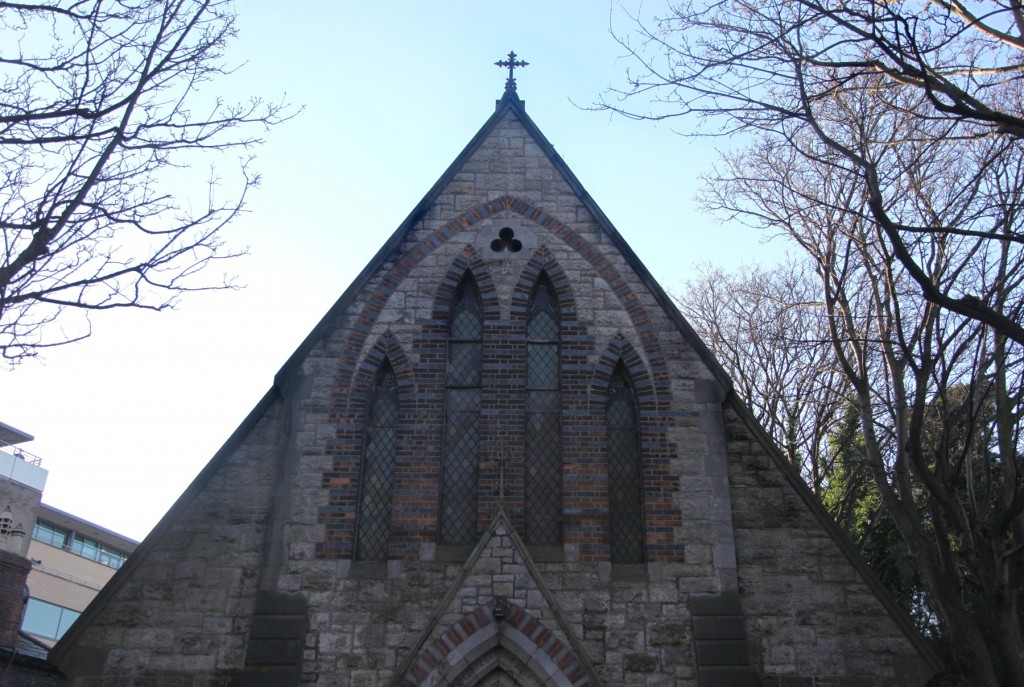 Not shown (under construction at the time of these photographs and completed in September 2013), but a new pastoral building designed by Sean Harrington Architects was added to the side/rear of the church, with a (German!) glulam timber frame that looks pretty interesting. Charmingly, it's referred to as a Lutherhaus, and I can't wait for the satellite views to update to show this contemporary single-storey flat-roofed building sitting beside the steep pitch of the church it supports. It looks like a successful pairing.