Passing Thomas Read & Company on Parliament Street, there's a feeling of the circus having left town. The shop closed in 1997 after 200 years at the address, though the business began on Blind Quay (Lower Exchange Street) in 1670, founded by James Read. Until 1988, when John Read Cowle retired, the business had been kept within the family.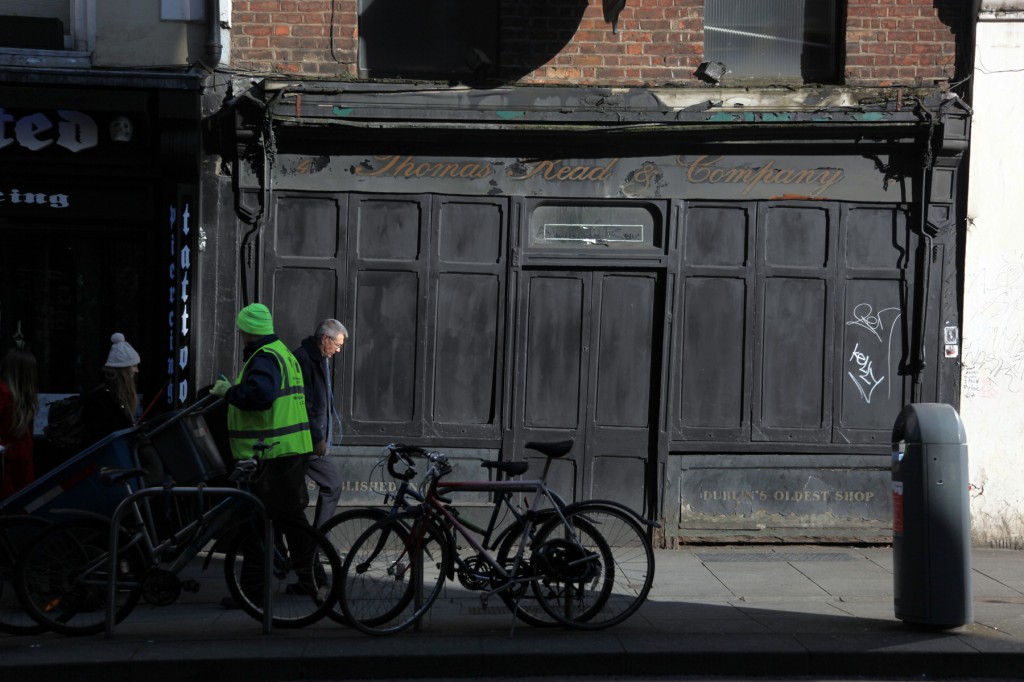 Sean Rothery's beautiful The Shops of Ireland describes it as "one of the best preserved shops in Ireland. The interior is an Aladdin's cave of knives and scissors and other articles of shining metal and is highly evocative of the period." Rothery dates the present shop to the late 19th century.
Sadly,  it's hard to describe it as well-preserved – Come Here To Me highlighted the shopfront's disintegration in a post last year, and it's looking worse still now. (The comments are also very interesting, as is often the case on CHTM and rarely true elsewhere!) It's absolutely clear that the shopfront needs attention, and it may be beyond salvaging.
Still, there's something evocative about the dusky front, with the weathered letters and the opacity of the shopfront almost seeming like it's fading out. It's photogenic not for the decay but for the muted effect. There's an irregularity to the lines now as if the panels and timber members are drawn in.
Eamon Mac Thomais' visit to the shop is a charming view of the interior, including World's Stupidest Pocket Knife:
http://en.wikipedia.org/wiki/Chiaroscuro