Crossing the Grand Canal between Charlemont Place and Grand Parade, the Luas bridge at Charlemont station is one of the simpler ones on the line. It's a flat deck passing in a straight red line from behind the Hilton Hotel and in beyond the former Carrolls factory, with the platform shelters at the centre.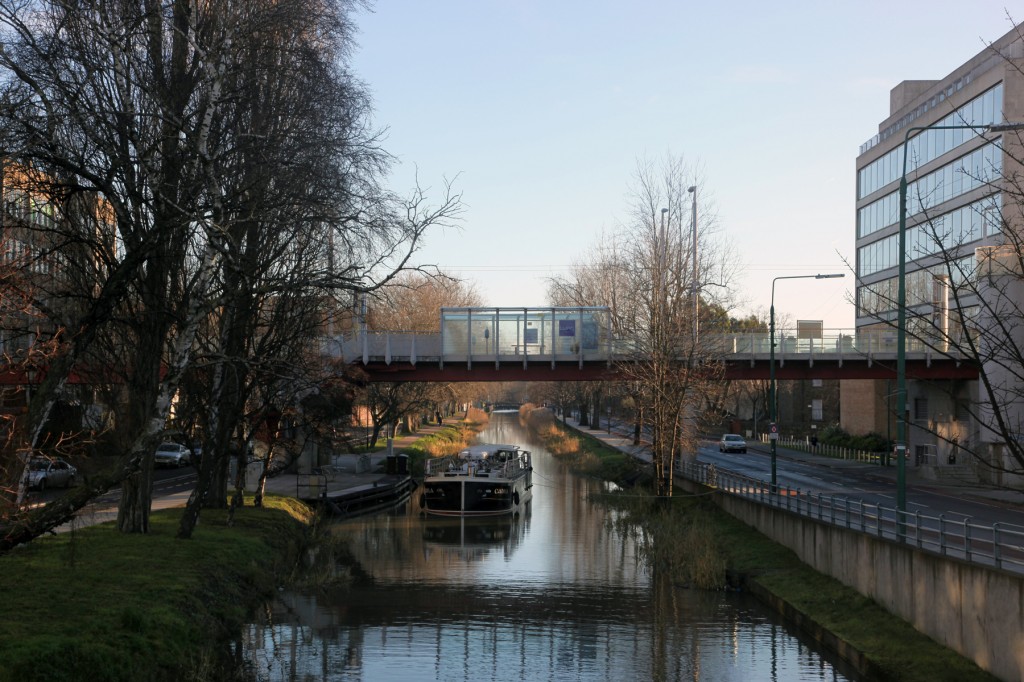 The bridge was completed in 2004 and appears to have been designed in-house by the Railway Procurement Agency. (As ever, corrections are welcome!) On each canal bank, a concrete frame supports the pair of deep beams that span over the water, with smaller beams and what looks like a corrugated deck sitting between the beams.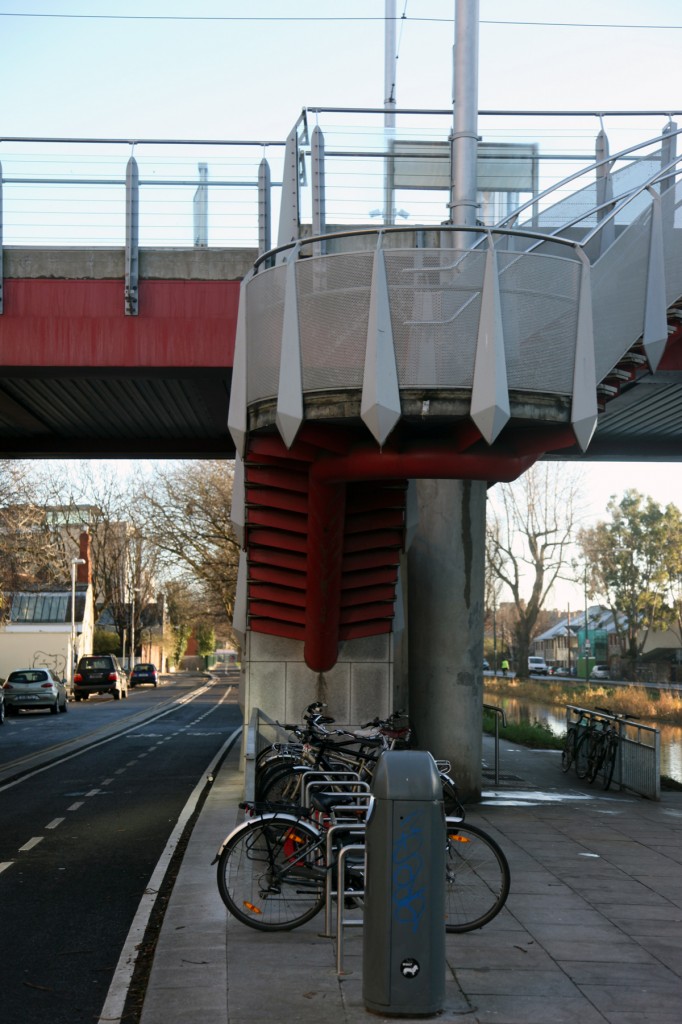 I'm extremely fond of two parts of the bridge. The first is the staircases on the town side, with a red circular section and its tentacles supporting the risers from beneath. It's a strange appeal by association, as it looks like dutiful, practical pipe, but there's also a nice gawky elegance to the cantilevered stair structures. For some reason, the railings around the stairs also get these pendulous jewel-like vertical members, far less perfunctory than their counterparts on the bridge but looking a bit like they were added without any bigger plan.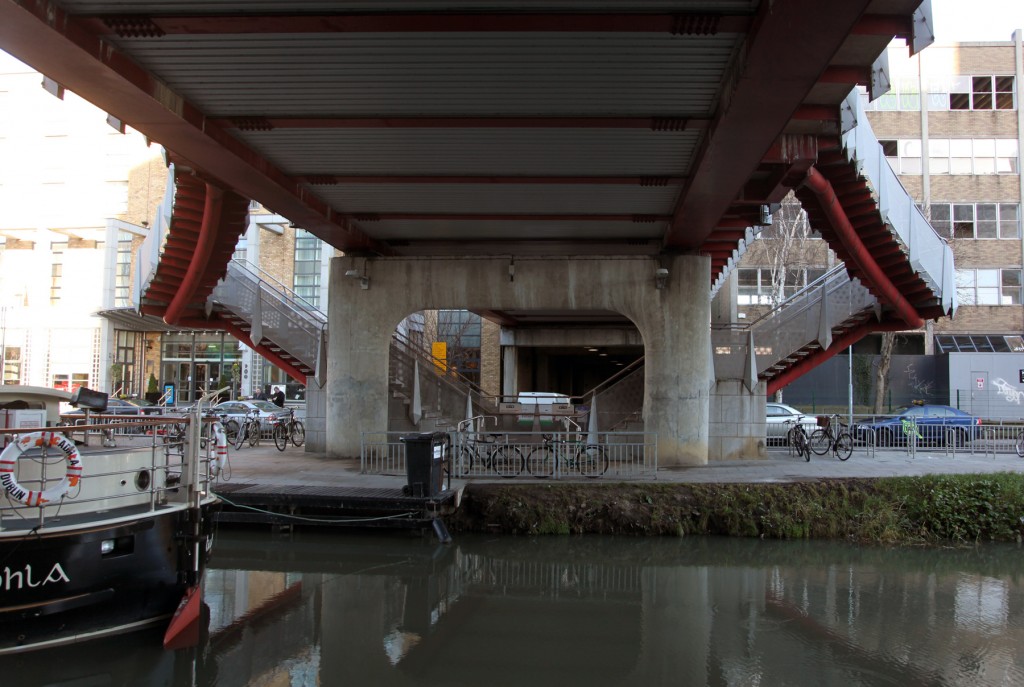 The second thing is…kind of the first thing again, but I love this view enough to go out of my way to see it. Standing on the Grand Parade side, the undercroft of the bridge presents this amazing symmetrical composition. You're within one concrete frame and staring into another, and it's big and hulking and mirrored. It's an aesthetic appeal that might be limited to those who also enjoy car parks and 1980s shopping centres (hi), but it's more mildly science fiction than anything else you'll get along the canal, and the bike racks and nearby bike paths add the futuristic illusion of effortless city transportation. Mostly, though, there's big red structure and smooth concrete.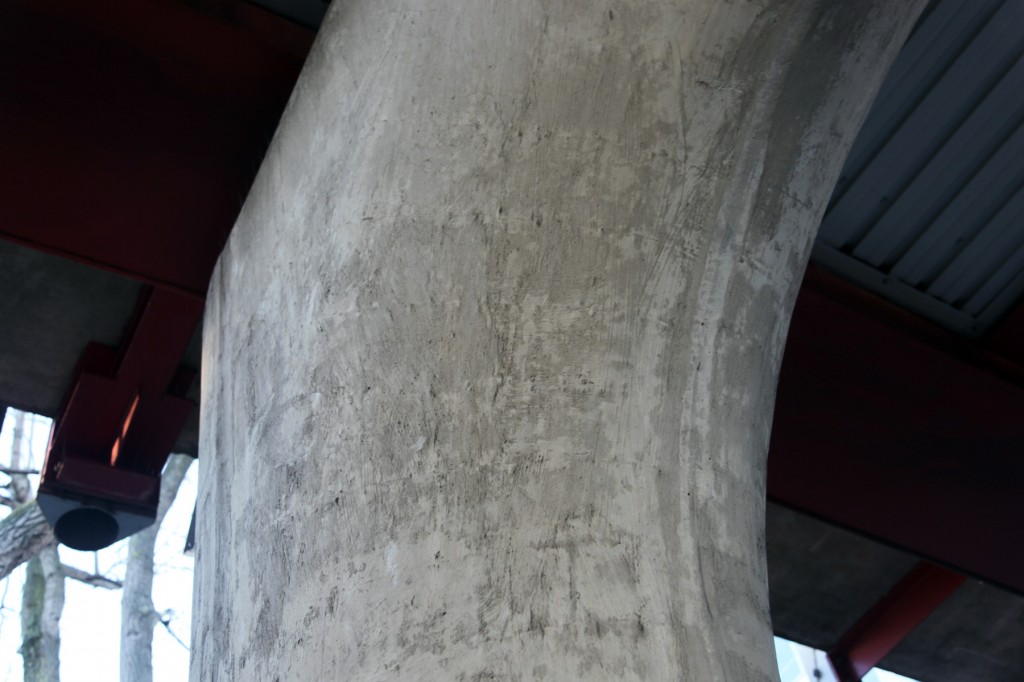 In 2005, the bridge was dedicated to Professor Simon H. Perry (1940-2002), with a plaque on the inbound platform describing him as an "engineer and promoter of light rail."