Dun Laoghaire got its first lifeboat in 1811, with a station built by the Dublin Ballast Board, which was taken over by the Royal National Lifeboat Institution in 1961. The information board on the east pier indicates that the current station dates from then – "Lifeboat station, constructed of granite in 1861″, and looking at rather fantastical newspapers images of the 1911 work by Douglas, Lewis and Douglas (station on stilts!), it would appear that this is the same granite station.
It's a gorgeous stone building, squat and clearly designed for its function, but more than just a shed. The long sides are broken up by regular pilasters, which step out to become deeper on the thicker lower part of the wall. On the gables, the roof is almost capped horizontally by terminating in an open pediment, with the arch for the entrance rising up through the gap. It seems like there should be more awkwardness in breaking the line of the pediment, but the arch is evenly proportioned within the surrounding masonry, and the function of the entrance is so obvious that perhaps it's easier to understand it.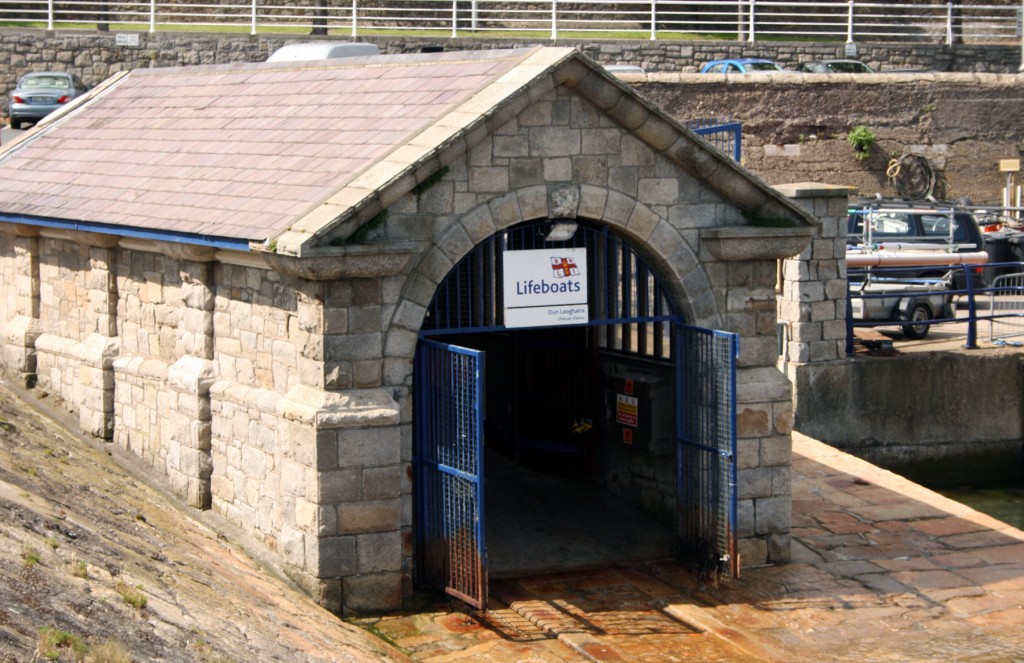 The thing that really draws me to the building is how it sits on its site and responds to the slope beneath. It's a little like a tunnel segment, and the smooth lines of stone trailing out into the water are like indicators of action, with the station at the top like a boat-holder perched above the water of the harbour. The disappearing surface of the slipway is one of my favourite features along the pier, with its gradient of grey into red into blue-green, and its material similarity to the sharper, cleaner station gives a quiet, purposeful presence to the lifeboats within the harbour.