Last week, I visited Granby Park for the Creative Mornings talk by UpStart Collaborative. The park is open for just one month, from August 22nd to September 22nd, occupying a Dublin City Council site on Dominick Street that's been vacant since the blocks of flats previously in place were demolished in 2006, with the public-private partnership for a new development falling apart in 2008 after the developer pulled out.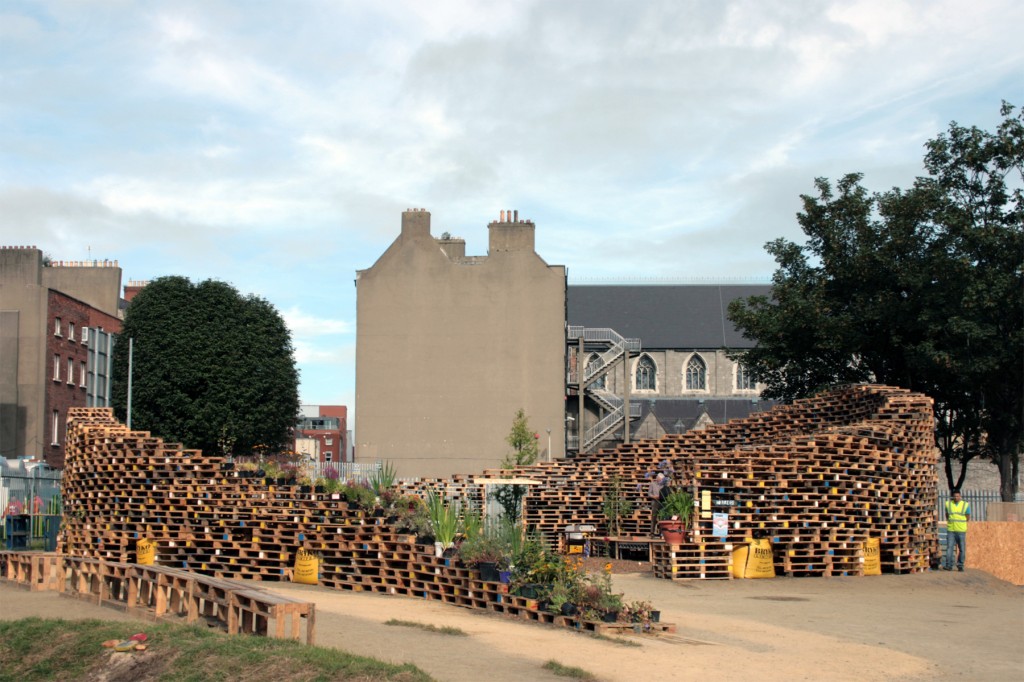 I was interested to see the park, but I am deeply skeptical of the urban value of pop-ups, and went along with mixed feelings, figuring that hearing from those behind the project would be the best way to understand the aims as well as the results around us. The morning was very interesting, with Annemarie Ní Churreáin and Sam Bishop speaking on behalf of UpStart, and people trickling in to use the park around us as we sat in the amphitheatre.
Granby Park is beautiful. It's a transformation of the site, and it's clearly a testament to the work, thought, and creativity of everyone involved. The amphitheatre was designed by Sean Harrington Architects and built in a collaboration between local kids (from Bradog Youth Services) and children from Belfast (North Eastern Education and Library Board), with the pallets referencing the area's significance as the home of Dublin's markets. A2 Architects worked on the park's masterplan and also designed the polytunnels that provide shelter, keeping the outdoor space functional and welcoming even when the weather turns a bit Irish.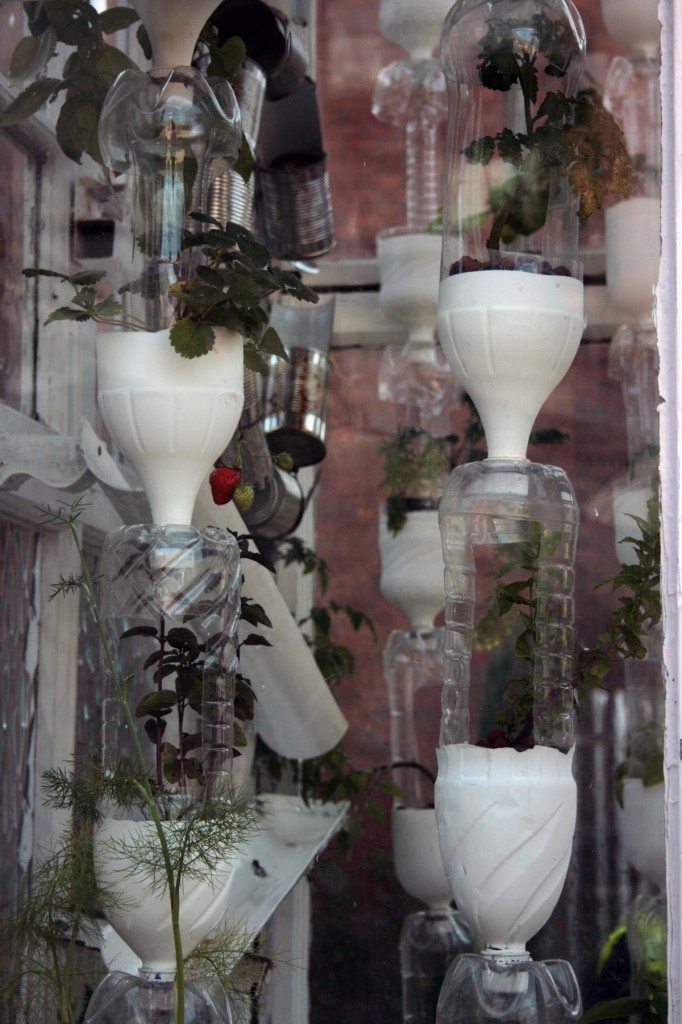 So, those mixed feelings. It's a difficult thing, because it's not about Granby Park specifically so much as it's about the effect of temporary or pop-up interventions in general – on a very basic level, I think the city and everyone living in it deserves permanent, sustainable amenities, and though there's a buzz around temporary projects, I would be very cautious about that drowning out the demand for things that will stay. It's also important that people aren't silenced from being angry, disappointed, or otherwise negative about the broken promises we can see all around the city, and that there isn't a reprieve for those who own sites they've left idle just because they're temporarily in use or for those who've disappointed people in need of what was planned. It's possible that a temporary intervention can highlight the potential of a space, and it's definitely a huge improvement for those looking down on the site or passing it daily, but I'm not convinced it's a catalyst for specific or general change in any city. (I would love to be proved wrong.)
Most importantly, I was curious about the engagement with local residents, and Sam Bishop's talk went a long way towards reassuring me on this particular point. The group have spent two years building relationships in the city and planning the park, and have been working from early this year with local community groups and residents, exploring how they use the available spaces and how the park can be a positive, engaging addition to their area, and having people speak for themselves. One point in particular struck me as interesting – about 50% of the area's residents were not born in Ireland, and Sam noted that among some of those they met, there was a sense that community buildings were not for them, not an amenity to which they felt connected. It got me thinking that, like each age making its own mark in the city with buildings, maybe the addition of new public spaces as the city changes can allow for a sense of ownership and being there from the start that's not possible with only older spaces. At a basic level, also, a park is a space everyone can use, not least when it's one with a substantial and varied programme of events.
A really good piece on the project and public space went up on the Provisional University blog this week, which is thorough and worth a careful read. It raises another point that hadn't occurred to me yet, and that's the significance of so many projects being done by volunteers (and in Granby Park's case, with crowdfunding to pay for construction – a generous and impressive thing, but something that should be counted in the cost of making these things happen. UpStart noted that too, that part of the park's temporary nature is that those involved have to go back to earning a living and can't be full-time volunteers.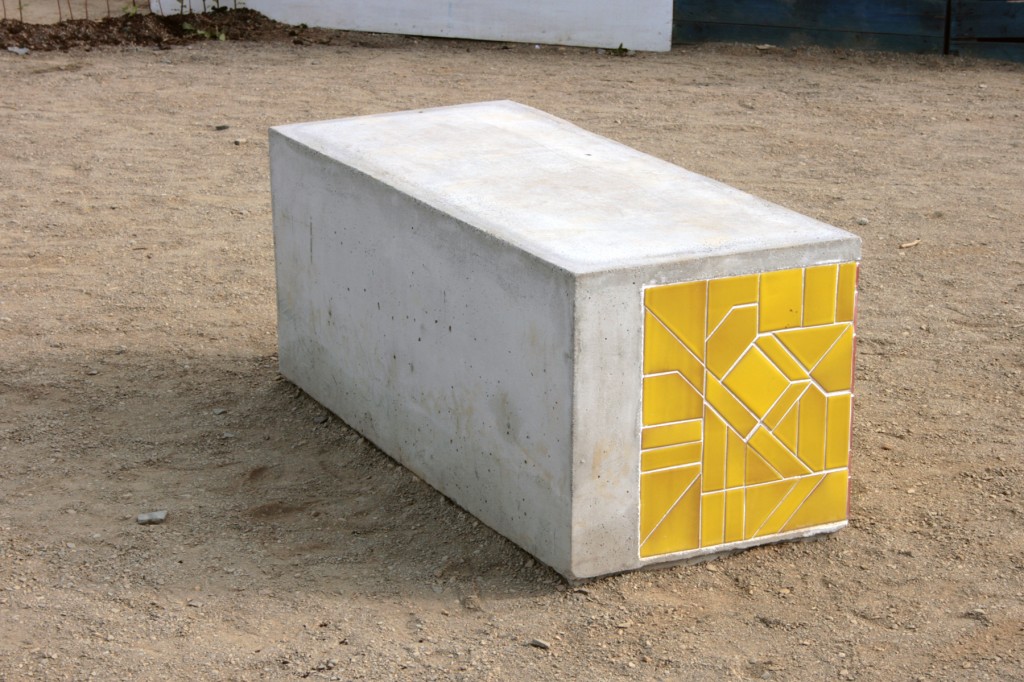 Again, though, the park is really beautiful. I was surprised by how domestic many aspects felt, and how those were connected with the temporary nature of the space. The planting is in pots and raised beds, as it can't be dug into the soil – the same choices I've made in rented houses, and the same many of us make when large-scale digging is just beyond feasible. Towards the entrance, the knitted sleeves on the railings and the bunting under the polytunnel are ephemeral and perishable in a way one couldn't work in a permanent park that had to weather all seasons. It's sweet and it also speaks to the park's awareness of its own lifespan, and that's an interesting aesthetic choice.
On that, I was also interested in UpStart's intention to consider what comes next, and they're working on a kit for others wanting to create parks in their communities, including redeploying Granby Park's plants and furniture for future use. They also mentioned that they are considering how there might be a legacy for the local area, perhaps not physical but in some form marking what took place. Like each aspect of the park's design and running, UpStart have given proper thought to how it ends in terms of the immediate context and a wider legacy, which impressed me.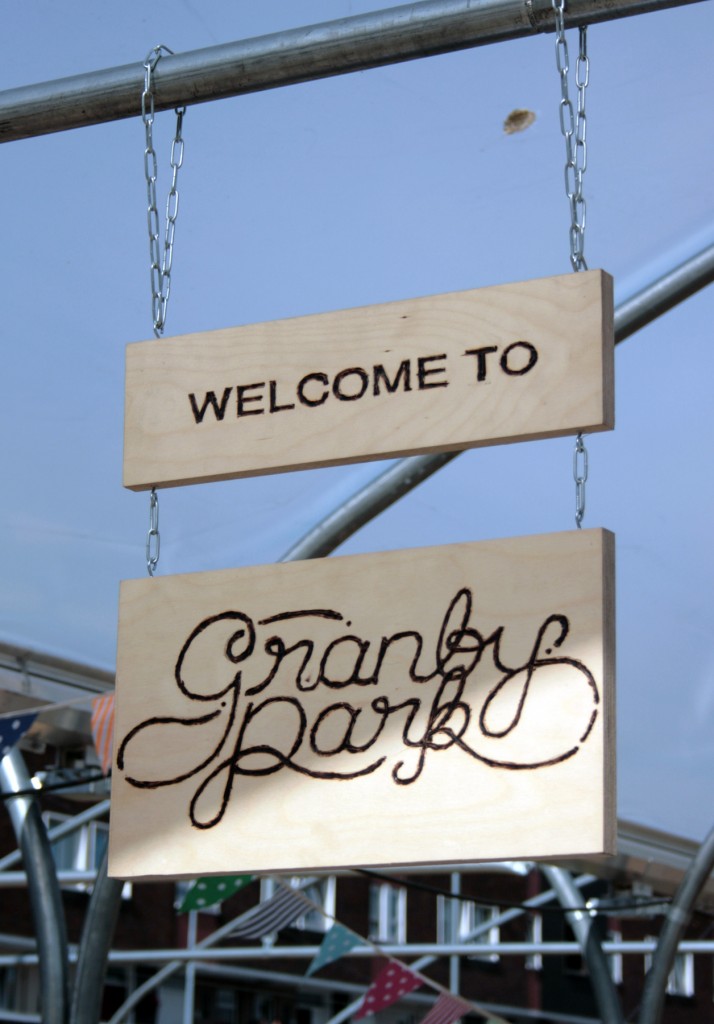 On the political part of the legacy, UpStart mentioned that they're planning a forum for the park's final days, giving an opportunity for discussion about the site's history and future, and that sounds as if it might be really interesting. It's definitely worth visiting the park, whether for a quick look or an event or to volunteer, and equally worth keeping an eye on its long-term effects.