Bushy Park follows the meandering path of the River Dodder for a stretch between Rathfarnham, Terenure, and Templeogue. The river's course winds a green band through the city until the last section before it joins the Liffey at Grand Canal Dock, and from the Rathfarnham side, the exterior of the park blends into the ongoing line of trees.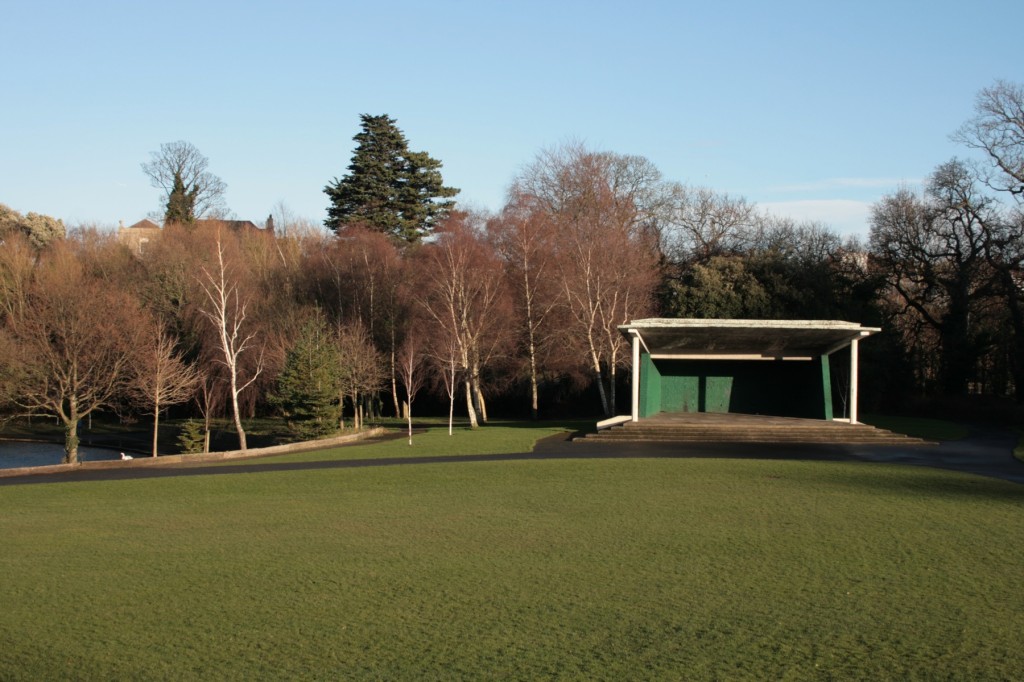 Towards the east of the park, by the duck pond, there's the bandstand. It's fan-shaped in plan and opens out at the base of a slope, like a natural amphitheatre set into the landscaping.
The current park is 20.5 hectares, and was opened to the public in May 1960 by P.A. Brady, the Lord Mayor. At that time, the park included the two pavilions, 16 hard courts, pitches for Gaelic, football and hockey, and the bandstand. The opening was marked with exhibition matches on the tennis courts and music and a blessing for the pavilion, and the music feels almost as quaint and as distant from now as the blessing. It's not that bandstands are never used now, but it tends to be occasional and deliberate and a bit nostalgic. The rest of the time, they sit like this one: a sort of folly, with a bit of graffiti and a funny smell.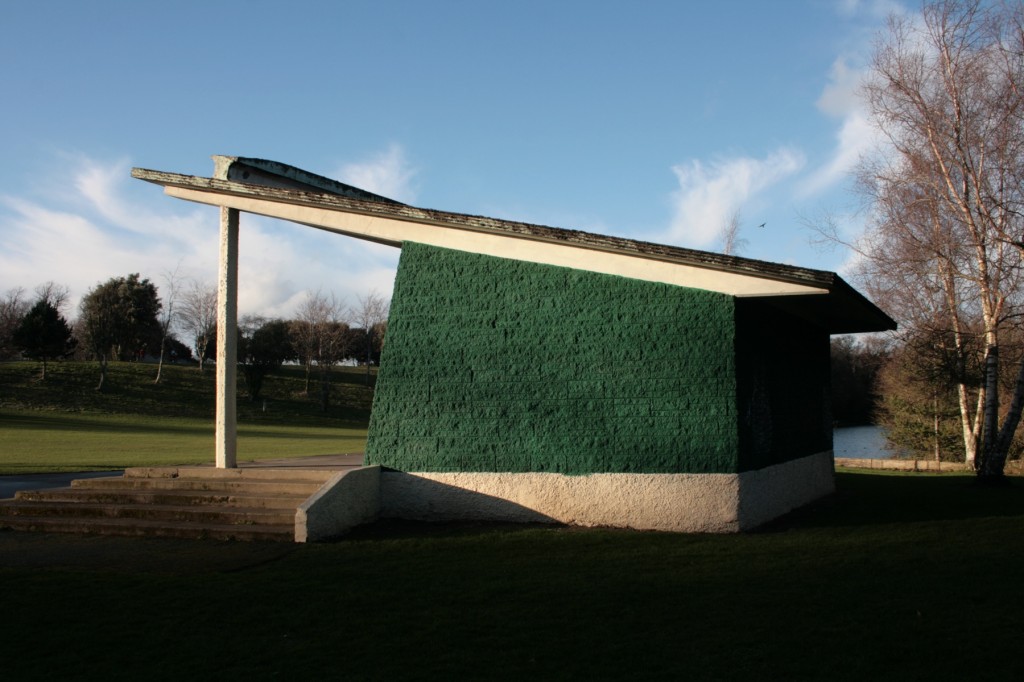 All the same, I really like the structure. The roof extends up and out from the low, solid section at the back, resting on two tapering edge beams. There are two slim columns supporting the beams near the peak, with the roof cantilevering a few feet further beyond. Above the roof plane, an i-beam spans between the columns, presumably doing much of the heavy lifting and keeping it out of site. The building isn't in great condition (and the 2008 landscape masterplan appears to jettison it without regret), but it seems like a neat and fairly elegant exercise with no visual obstruction to the entertainment.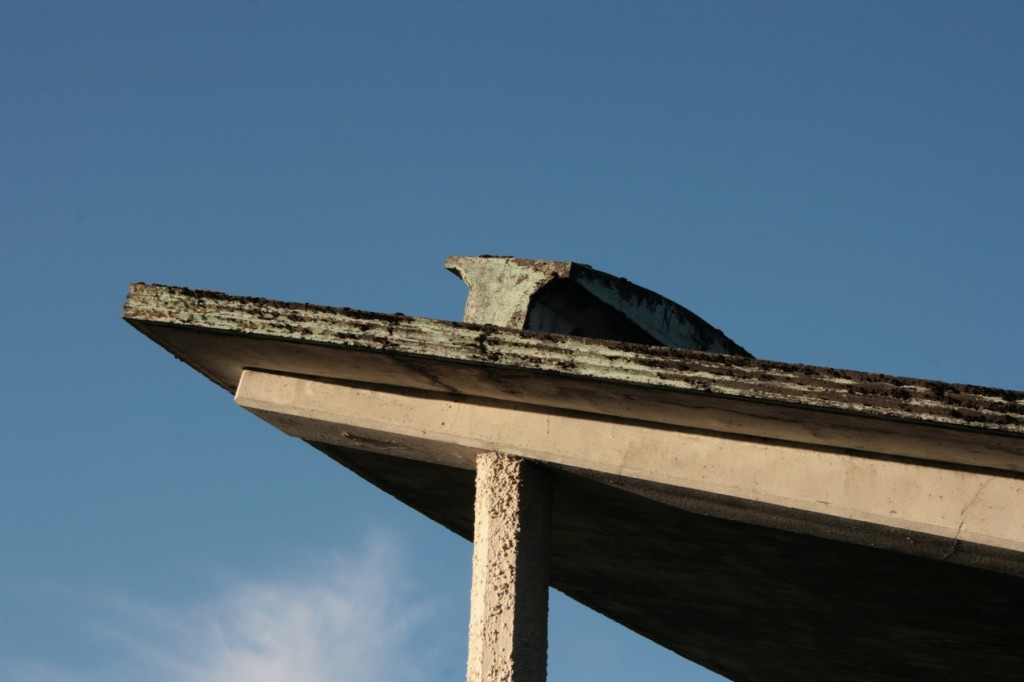 The masonry and the deep green paint are the same as that on the pavilions. Unfortunately, I haven't yet come across an attribution for the park's buildings, but with both in the original design, it might be reasonable to assume it's the same person or team.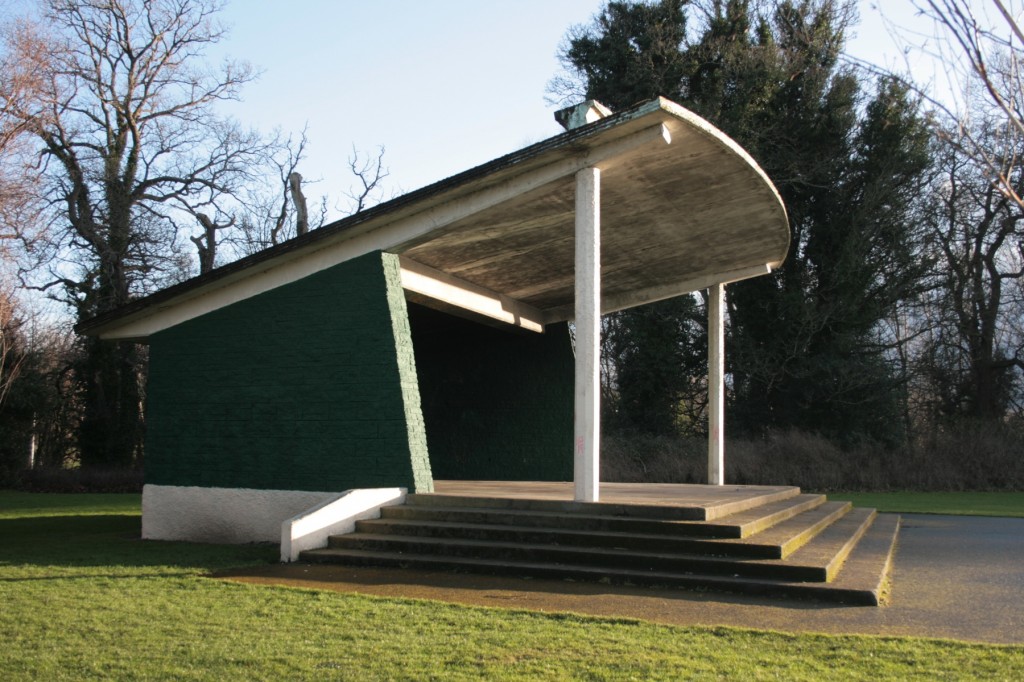 The park's name came from Bushy Park House, originally owned by Arthur Bushe (known as Bushe's house), and renamed by John Hobson on purchasing the house in 1772. In 1791, it was bought by Abraham Wilkinson, and the lands were greatly expanded. Dublin Corporation bought the house and grounds from the Shaw family, the last owners, in 1953.