There's a gap between houses accommodating a lane at the southwest corner of Mountpleasant Square, but it doesn't quite line up with the pedestrian trajectory through Richmond Hill from Rathmines Road. It's only about 30m away, but it's out of the line of sight, and so the archway through the ground floor of one house seems like the most attractive option, at least until you get through to the square and end up walking over to one side anyway. Things that look logical on maps seem annoyingly far away or sharply angled when you're standing there facing the choice, like the stupid jaywalking we do right near pedestrian lights, and so I'll admit to a habit of using the arch every time.
It's an attractive route, with the mixture of brick and stone on the garden-height walls and that feeling of passing under rooms. I'm not sure of the origin or context, and am hoping to research a bit further. Spatially, I really like the asymmetry of the surface to the rear of the house, with the return (on the right, above) projecting out and making it feel like you're moving into a corner rather than through a wall.
Though it's a clear separation of public and private, it makes me think of the tenement routes through houses and mews, as described in Gary Boyd's fantastic Dublin, 1745-1920: Hospitals, Spectacle and Vice (pp.188-9, in reference to the Monto, an infamous district in the north inner city):
"Ground floor hallways, for example, often became shortcuts between parallel streets, opening up a myriad of alternative route-ways so that the edges of the private zone did not begin at the front door but, rather, whole blocks of tenements became almost infinitely penetrable."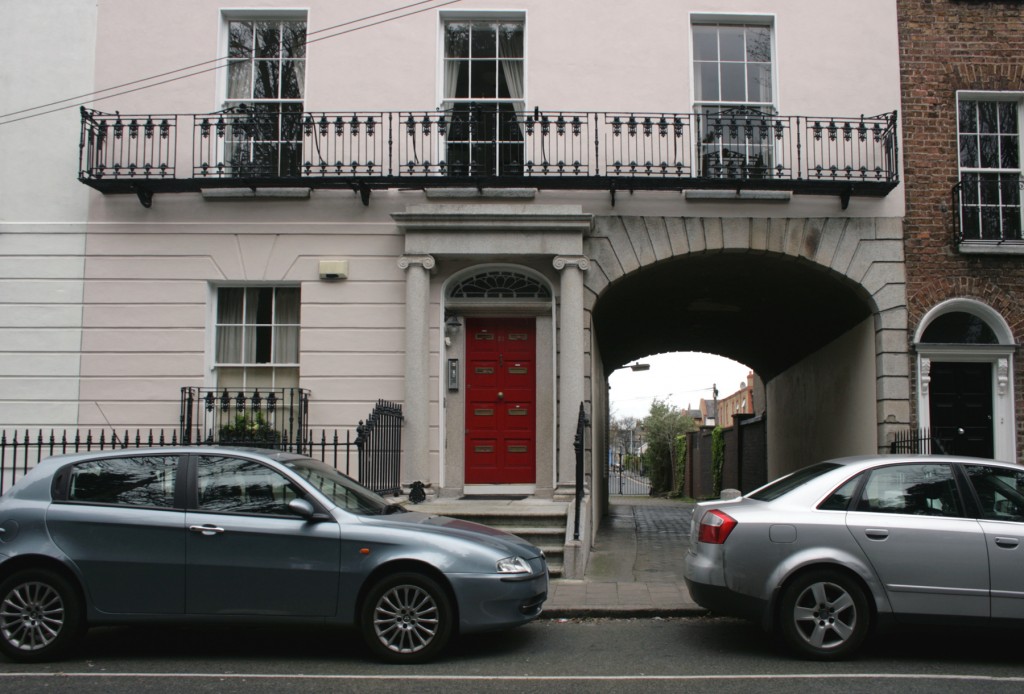 There's nothing to mourn about Dublin's horrific, inhumane tenements being a thing of the past, but the idea of penetrable blocks is something that's really appealing and changes the private-road-private section of the city. I found Venice the most exciting city I've ever visited for this reason, the sense of a building visible up ahead being no indication of a dead end, but maybe another little passage or court or slipway, and it makes for a great complexity of movement. This is much more straightforward, but it's a nice point along a route, and it gives the house an even grander aspect from the front.