The Church of St. Augustine and St. John is one of the street's highlights, designed by Edward Welby Pugin and George Coppinger Ashlin, with construction beginning in 1862 (and dragging on for 33 years). It was built on the site of a Norman hospital dedicated to St. John of Jerusalem, and though the Thomas Street facade is its clear highlight, I'm also quite taken by the other three sides of the complex, particularly the presbytery facing onto John's Lane and John Street.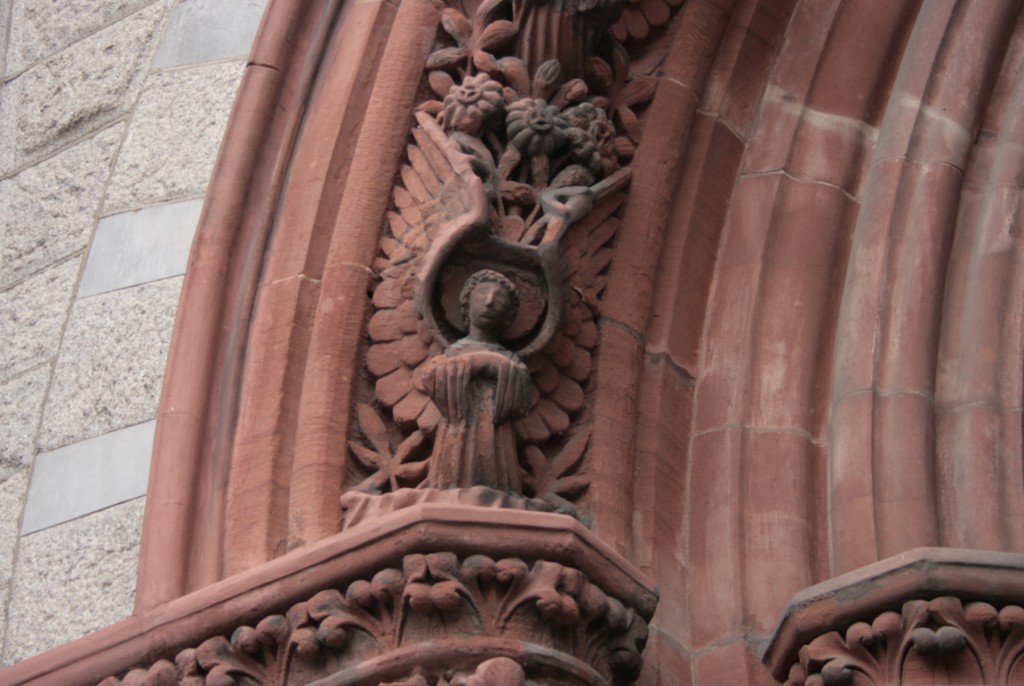 On the west side of the block, you're brought into the sweep of John's Lane, the small street by which the church is commonly identified. It's cobbled and meets the boundary of NCAD, and it's a pretty, quiet way of slipping away from the busy surrounding streets. Maybe in part due to the street's single, closed move through 90 degrees, it feels less like a route and more like a place you might want to stop, and yet there's nothing happening within it. I've been thinking about Thomas Street a lot, and about how urban streets – tough and maybe even scrappy urban streets – feel like they're fully activated when you consider them at a greater depth than a single line. With life and activity extending a block or more deep, the street feels like a vital connector. Thomas Street definitely has this to the south around Francis and Meath Streets, which are like self-contained worlds and the opposite of boring. John's Lane is more like very pleasant whitespace, but it seems like a positive asset for the primary street.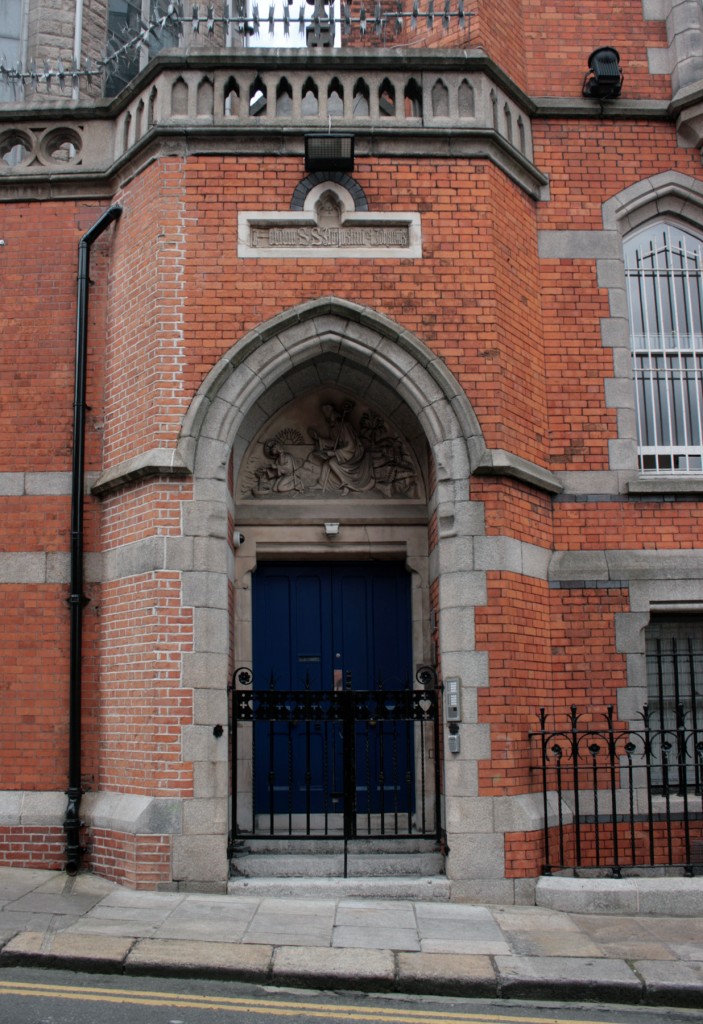 The original presbytery was designed by Ashlin and completed  in 1878. It's five storey high and the main entrance is on John Street, above, while the new presbytery on the west side (by Ashlin and Coleman, 1937) has an entrance on Thomas Street. The recessed, carved sign above the original door is pretty nice, in granite with an upper border in darker brick.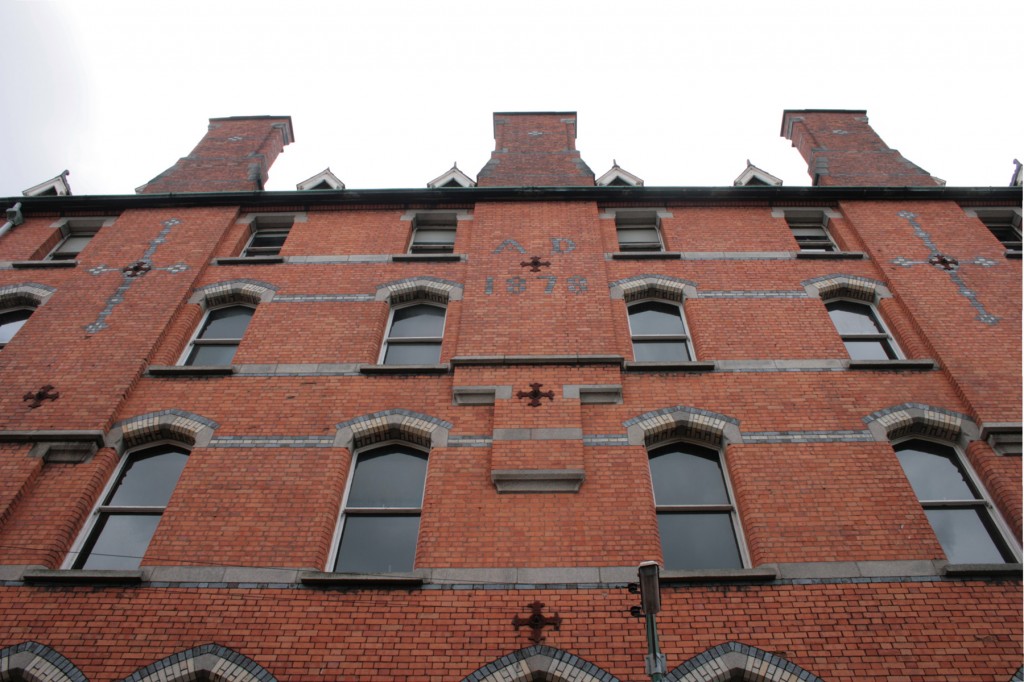 The northern facade is really wonderful and was kindly pointed out by Stephen Coyne. There's so much to enjoy here, from the rhythm of the windows and their heads linking with horizontal courses, to the expression of the chimneys on the outermost plane, stepping in as they near ground. Obviously, the integration of the crossed studded on and the darker brick picking out the date and crosses was the first draw, but it's much finer within the total composition.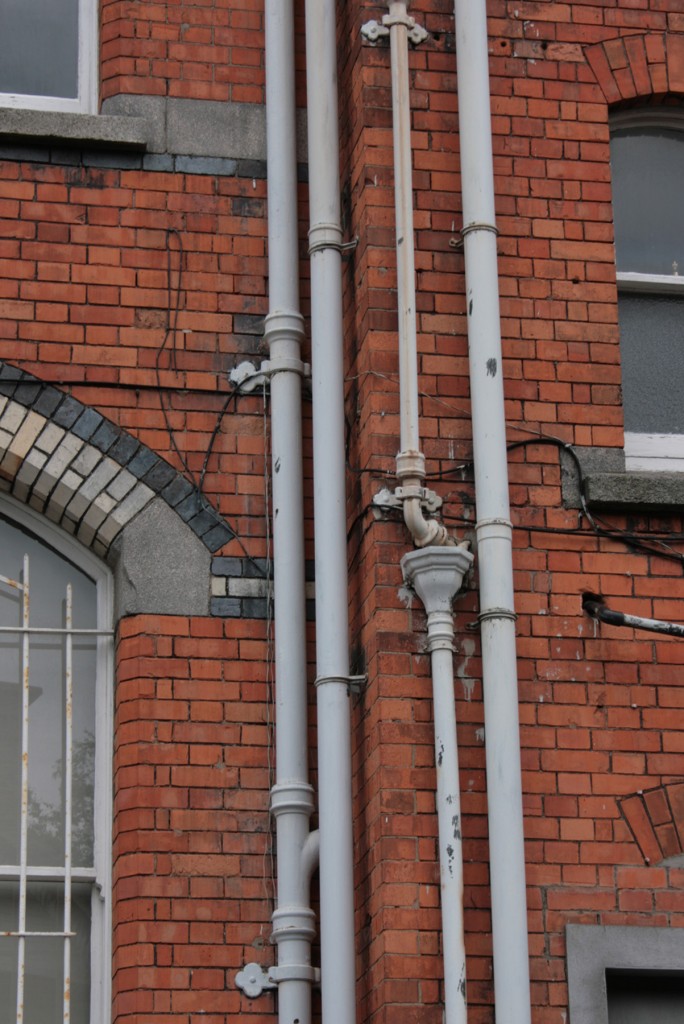 I also liked the brackets supporting the pipes, and the opening at the top of the downspouts – did they date to the 1937 building, or did they come at another point? (If I'm not misreading it – which I might be, without a plan – the outer plane above is the 1937 and the inner on the left is the original. This is from John's Lane, west looking east).